April 9 and 10, 2021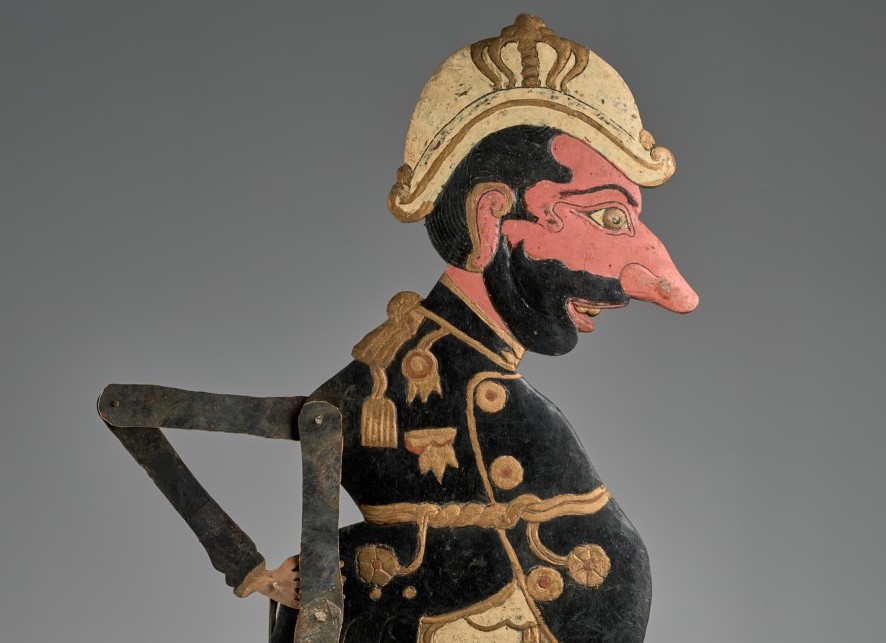 Puppets, masks, and other performing objects are used around the world to represent and stage the Other—various ethnicities and races considered different from dominant groups. Such dramatizations of alterity routinely involve exotification, exaggeration, and caricature. The transformative capacities of performing objects—which allow any practitioner to enact anything or anybody—potentiate realizations of exotic fantasies and can inscribe and reinforce racial stereotypes and ethnic misrepresentations. They also have capacities to transcend received categories and struggle against modes of oppression such as colonialism, often through humor. This symposium investigated how puppetry and allied forms in societies globally reflect and perpetuate systemic and pervasive racism and bias, imagine diversity, allow minorities to achieve visibility, play with and resist ethnic and racial identifications and categories, and problematize and challenge histories of representation of the Other.
Please find panelist bios and abstracts here.
Friday, April 9 Schedule
9:30am ET: Introductions by John Bell and Matthew Cohen
10:00-10:45am ET: Keynote (with moderation from Matthew Cohen)
Marvin Carlson, "Alterity in the Arabic Puppet Theatre"
11:00am-12:30pm ET: Alterity and Diversity (Moderator/Discussant: Frank Proschan)
Jo Ann Cavallo, "Sicilian Puppet Theater: Alterity or Diversity?"
Olly Crick, "The Game of Comedy: Commedia and its Masks"
Nazlı M. Ümit, "A Melting Pot or The Stage of A Racist Trickster? Relocating Karagöz in the Discourses of Othering"
1:15-2:15pm ET: Hidden in Plain Sight: Early 20th Century African-American Practitioners (Moderator/Discussant: John Bell)
Paulette Richards, "Always Busy Somewhere: John W. Cooper Crafts an Entrée for the Other"
Ben Fisler, "Ralph Chessé and Forman Brown: When Carving the Other is Carving the Self"
2:30-3:30pm ET: Contemporary Legacies of Racial Violence (Moderator/Discussant: Paulette Richards)
Mary Anderson and Richard Hayley, "Afterlives: Silhouettes and Shadows in the Art of Kara Walker"
Leslie Burton, "Effigies of Obama and Racial Othering in Public Object Performance"
3:30-4:15pm ET: General Discussion (Facilitator: Jungmin Song)
Saturday, April 10 Schedule
9:00-10:30am ET: Others in Asian Traditions (Moderator/Discussant: Matthew Cohen) 
Kathy Foley, "The Other in Southeast Asian Puppetry"
Robin Ruizendaal, "Representing Alterity in Chinese Puppet Theatre"
Rudy Wiratama, "When Klana and His Mercenaries Sailed to Java: The Expression of Otherness in Surakarta Court-style Wayang Gedhog Performance"
10:45am-12:45pm ET: Historiography (Moderator/Discussant: John Bell)
William T.F. Condee, "Exhibiting Blackface Puppets from the German Imaginary"
Mayumi Ilari, "Mamulengo as Cultural Resistance"
Ida Hledíková, "Characters of Others in Plays of Slovak Folk and Professional Puppet Theatre"
Didier Plassard, "Puppetry for a Total War: French and German Puppet Plays in WWI"
1:30-2:30pm ET: Staging Diaspora and Refugee Visibility in Contemporary Puppetry (Moderator/Discussant: Cariad Astles) 
Husam Abed, "Puppet or/and an Object for Refugee Visibility in Escape and War Maker"
Francesca Di Fazio, "How to Signify Otherness and Diasporic Bodies Through Puppetry. Two Dramaturgies by Kossi Efoui"
2:45-3:45pm ET: Supernatural Others (Moderator/Discussant: Kathy Foley)
Hazel Rickard, "Matter's Dark Powers: Racializing Performing Objects in Nineteenth-Century American Spiritualism"
Fan Pen Chen, "Shaman Leaders of the Snake People in Religious Marionette Plays"
4:00-5:00pm ET: Orientalism and Occidentalism (Moderator/Discussant: Matthew Cohen)
Tobi Poster-Su," A Real American Wife, A Japanese Object: Puppetry and the Orient in Minghella's Madama Butterfly"
John Emigh, "The Western Tourist as Exotic Other: Taming the Aggressive Ways of the Casual Stranger"
5:00-6:00pm ET: General Discussion and Next Steps (Facilitator: Jungmin Song)