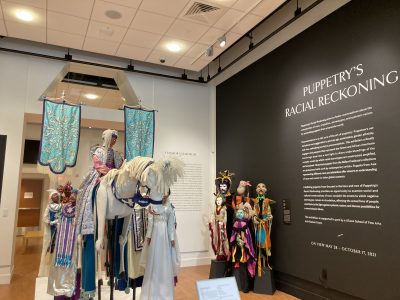 Puppetry's Racial Reckoning
curated by Dr. Jungmin Song
On display through October 30, 2021
This exhibition aims to foster conversation and understanding about the complexities of race, prejudice, stereotypes, and systemic racism by presenting puppets from around the world. The exhibition examines fantasies of the East and misrepresentations of African Americans used in puppetry in relation to social and cultural constructions of race, and asks how fabricated differences affect the actual lives of people. Historical puppets from the Ballard Institute's collections are juxtaposed with work by contemporary artists such as Kara Walker, Alva Rogers, Michael Richardson, Kimi Maeda, Akbar Imhotep, and Garland Farwell. Puppets from Asia representing different races and ethnicities offer viewers an understanding of race and racism in wider global contexts. Exhibiting puppets from the past in the here-and-now provides an opportunity to learn from past misrepresentations, consider the extent to which such negative images remain in circulation, contribute to the fight against systemic racism, and discuss possibilities for a more inclusive future.
Please note: This exhibit contains racially offensive imagery in a historical context. We are doing this to continue the conversation for a more inclusive future.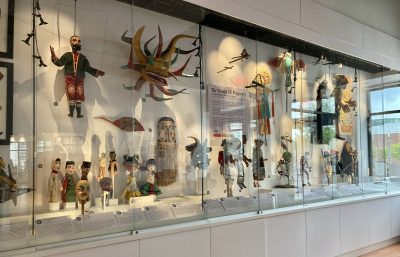 The World of Puppetry: From The Collections of the Ballard Institute
This is a permanent exhibit from the Ballard Institute's collection that includes puppets from all over the world to show the global scope of the artform. It moves geographically from right to left moving from Asia, to Europe, and ending with puppets from the US.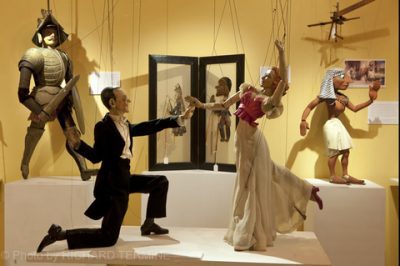 The Kinetic Life of the Puppet: Photography of Richard Termine
On display in the back hallway gallery, this exhibit highlights the work of UConn Puppet Arts alumnus Richard Termine, a Brooklyn-based photographer and puppeteer who is renowned for his performing arts photography for Sesame Street, The New York Times, Lincoln Center, Cirque du Soleil, the Brooklyn Academy of Music, and the Jim Henson Foundation.