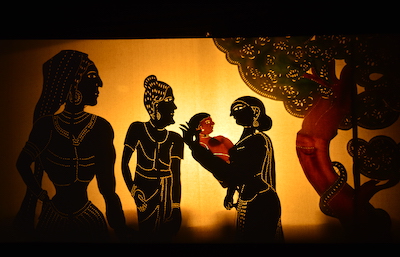 Tradition and Revolution in Indian Shadow Puppetry
On exhibit through December 17, 2023
Tradition and Revolution in Indian Shadow Puppetry, curated by puppeteer and University of Connecticut graduate student in the Department of Comparative Literature and Cultural Studies Rahul Koonathara, celebrates the spectacular South Indian shadow puppet traditions of Tolu Bommalatta and Tholpavakoothu, as well as recent innovations reflecting the changing nature of the form. For over thirteen generations Indian puppeteers have performed myths, customs, and rituals based on two Hindu epics, The Ramayana and The Mahābhārata. In recent years new variations in design, construction, and content have re-shaped traditional performances, which in many cases have shifted from temple performances to secular locales and included new subjects such as the lives of Mahatma Gandhi, Jesus, and the animal characters of the Panchatantra, as well as contemporary social and political themes. Please note this exhibit contains some nudity.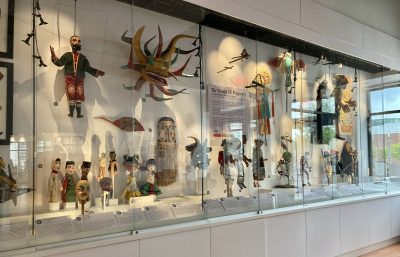 The World of Puppetry: From The Collections of the Ballard Institute
This is a permanent exhibit from the Ballard Institute's collection that includes puppets from all over the world to show the global scope of the artform. It moves geographically from right to left moving from Asia, to Europe, and ending with puppets from the US.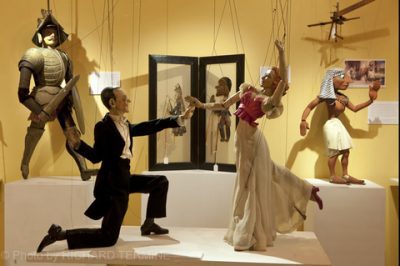 The Kinetic Life of the Puppet: Photography of Richard Termine
On display in the back hallway gallery, this exhibit highlights the work of UConn Puppet Arts alumnus Richard Termine, a Brooklyn-based photographer and puppeteer who is renowned for his performing arts photography for Sesame Street, The New York Times, Lincoln Center, Cirque du Soleil, the Brooklyn Academy of Music, and the Jim Henson Foundation.