February 22, 2018-July 1, 2018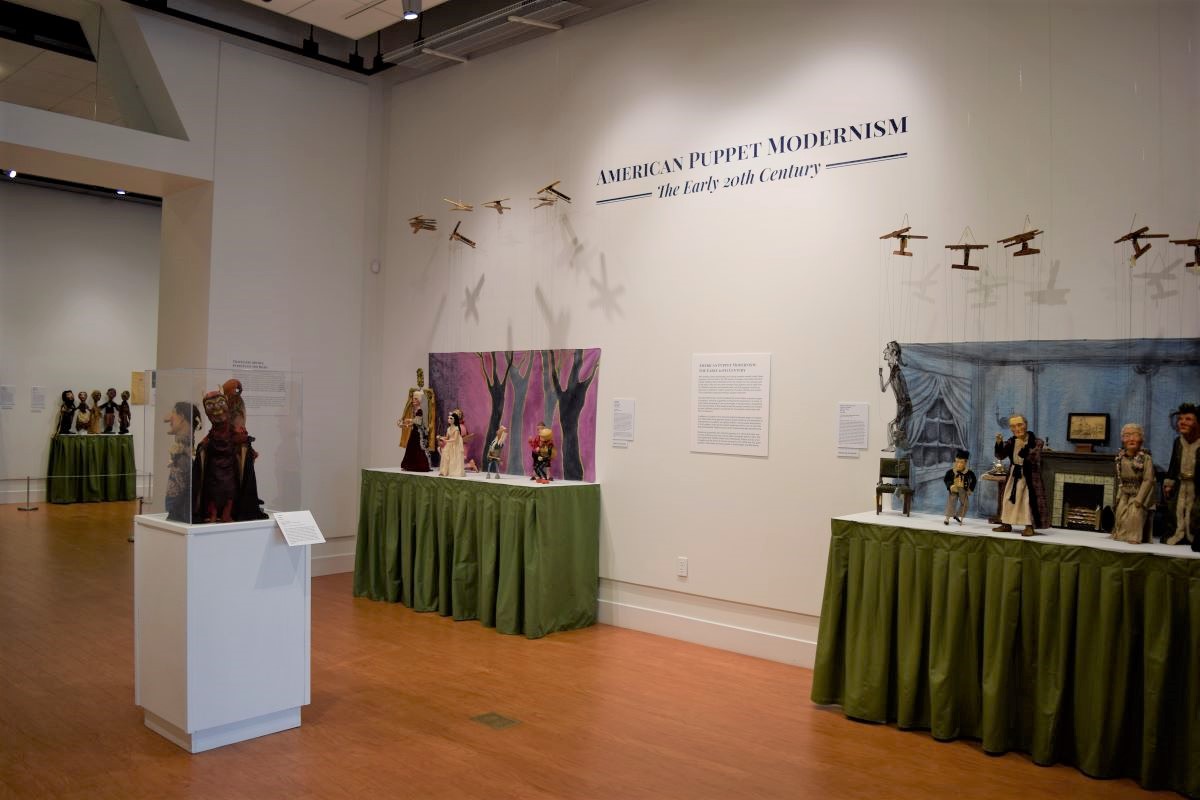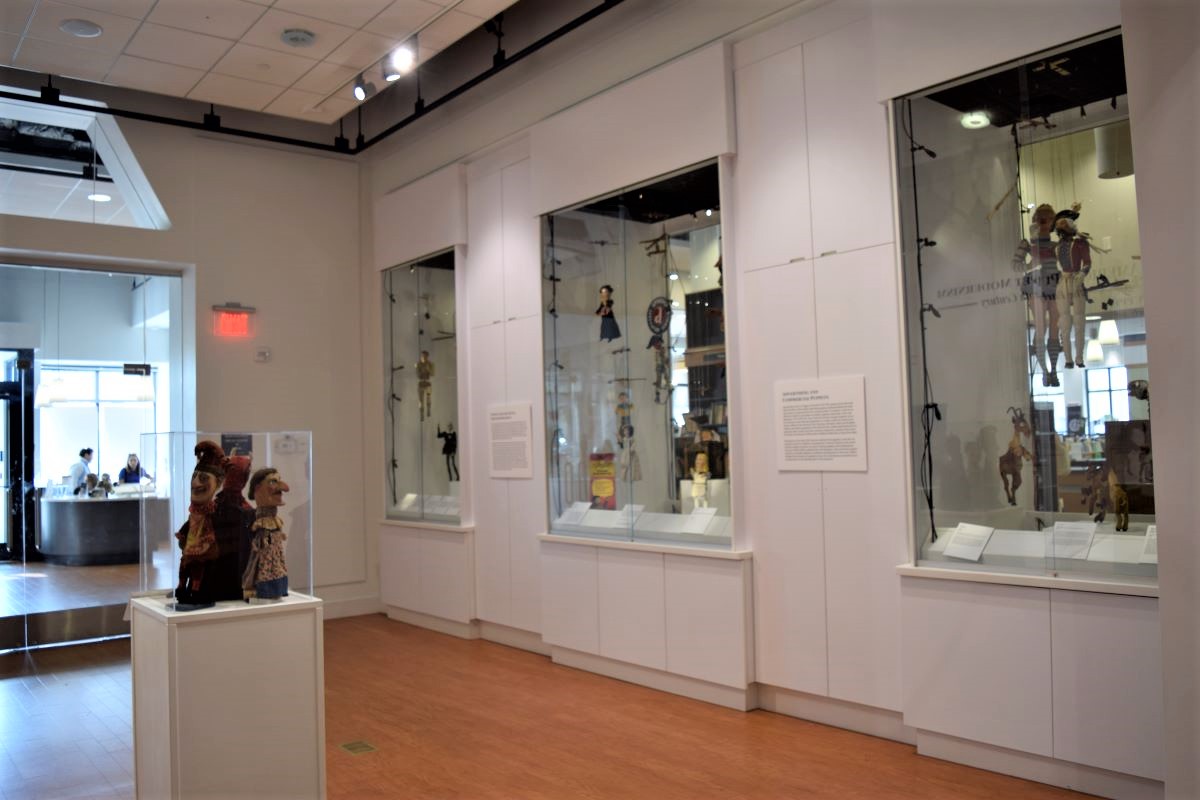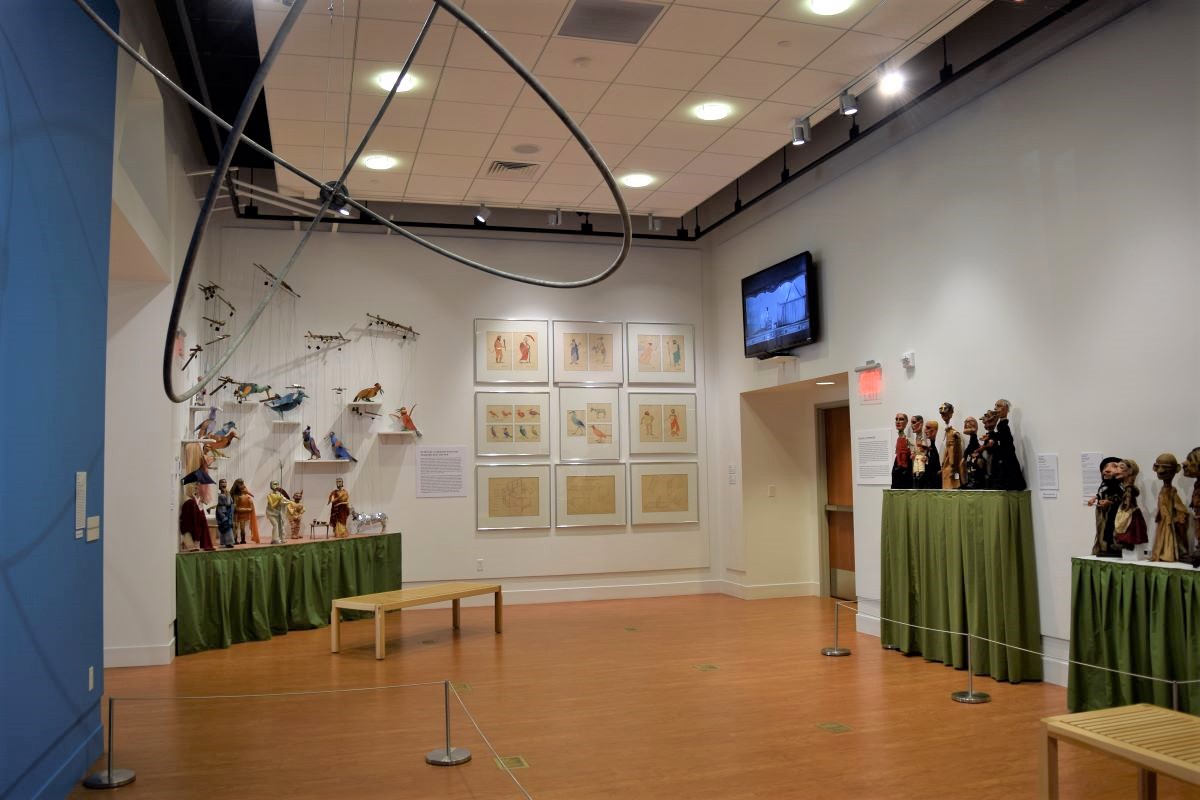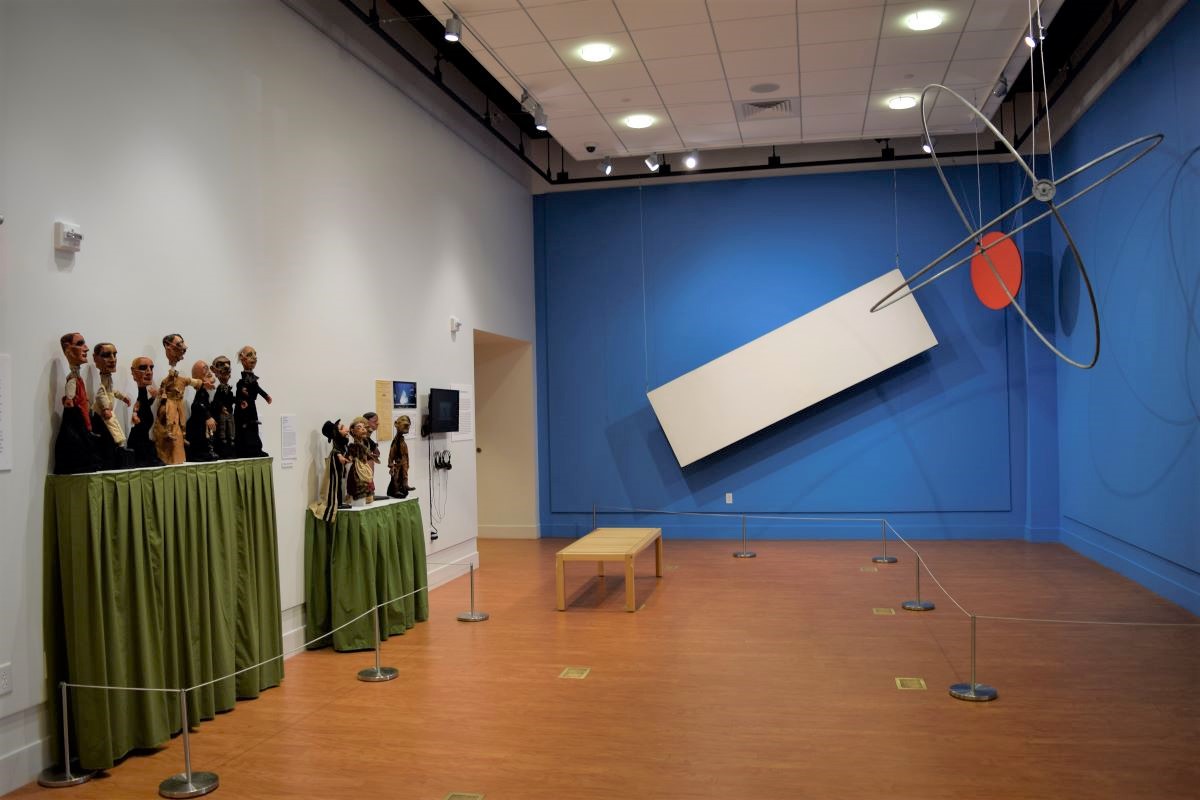 American Puppet Modernism:  The Early 20th Century 
New energies, ideas, technologies, and cultural contexts marked United States puppetry in the first half of the 20th century. European marionette and hand puppet traditions had proliferated across the country for four centuries, and by the early 1900s, two new ideas emerged: that puppetry was an ideal form for children's education and entertainment; and that puppetry could be an ideal way to represent modern questions of culture, identity, and politics.  This combination produced American puppet modernism. 
The early 20th-century world considered the United States a dynamic engine of progress. American puppeteers embraced this dynamism in a variety of ways, taking advantage of new technologies of transportation, engineering,  and communication as they toured across the country, invented such wonders
as giant inflatable puppets, and figured out how puppets worked best with film and television.  
In addition to European forms, American puppet modernists began to recognize and utilize Asian rod-puppet and shadow-puppet traditions, and developed an understanding of puppetry as a global tradition. Daring puppet experiments of the European avant-garde inspired expatriate artists such as Gertrude  Stein and Alexander Calder to pursue similar projects when they returned home. 
Modernist puppeteers also realized puppetry as a strong and clear way to share political, social, and cultural ideas. Immigrant artists in New York  City represented Yiddish culture and contemporary politics; and as union 
struggles and the threat of fascism emerged in the 1920s and 30s, giant puppets in the streets and hand puppets in booth stages sounded alarms.
Political Puppetry 
Wherever they emerge in societies around the globe, puppets have played a  central role as commentators—most often satirical!—on social and political life. Modern political developments in the early 20th century inspired artists in the United States to use puppets to convey political ideas—an active counterpart to the equally effective use of puppets in advertising. Puppets were employed by activist puppeteers to support unionizing efforts and, as  20th-century politics evolved, to oppose fascism. Activist puppeteers used a  variety of forms ranging from agit-prop hand-puppet shows to cantastorias (picture performances) and giant puppets for street demonstrations in the  1920s and 30s. In New York City, the Modicut Puppet Theater combined its sharp political satire with comic visions of Jewish life on the Lower East  Side, all in Yiddish.
The Depression-era Federal Theatre Project was created to put America's theater community back to work, and it included hundreds of puppeteers across the country. Federal Theatre Project puppet units were created across the country, and included many of the artists whose work is here on display.  Ralph Chessé, who was state director of the California FTP puppetry division,  wrote that "Federal Theatre gave me a chance to show that marionettes can  be very high-class adult entertainment."

Three Workers
Adolf Hitler
Benito Mussolini
Neville Chamberlain
Albert Einstein
Irving and Minna Reizes
From the Reizes Collection of the Ballard Institute

Donated by Rani Cochran and David Reizes
Irving Reizes (1911-2006) was part of the Suzari Marionette troupe (the first syllable of his last name was the "ri" of "Suzari"), which performed more mainstream touring shows such as
Pinocchio
and
Peter and the Wolf
  in the New York City area as part of the booming puppet revival there. However, Reizes and his wife Minna (née Saltzman, 1911-1995) were also active in the labor movement, and performed political hand-puppet shows "up and down the Eastern Seaboard", as their daughter Rani Cochran puts it, from 1936 to 1941 as part of anti-fascist, anti-Nazi activism opposed to the "America First" isolationist movement led by Charles Lindbergh and Henry Ford. Irving Reizes made the hands and heads of the puppets, while Minna Reizes created the costumes.

Old Woman
Dancing Rabbi
Mahatma Gandhi
Herbert Hoover
Hitler
Zuni Maud and Yosl Cutler, Modicut Puppet Theatre
1925-1933

From the Collection of David and Audrey Buchholz
 Zuni Maud (1891-1956) and Yosl Cutler (1896-1934), immigrated to New York City from eastern Europe in time to be part of the city's 1920s and 30s puppet renaissance. Both graphic artists and political satirists, Maud and Cutler created Modicut Puppet Theater in 1925, performing such shows as
Der Magid
(
The Itinerant Preacher
) and
Akhashveyrush
(a Purim
shpil
) based on Jewish folklore. With onset of the Depression they produced more political work, such as a hand-puppet satire of
The Dybbuk
, making them popular with intellectuals and general audiences alike, and winng critical acclaim from the Yiddish press.
Modicut also performed in Jewish schools and workers' clubs around New York and in 1929 toured Europe, where they were seen as exciting examples of American Yiddish modernism. They disbanded in 1933 for reasons that are not clear, and Cutler died in a car crash en route to Hollywood. Maud continued to perform live and on television.
Travelling Shows: Puppets on the Road
Entrepreneur, puppeteer, and visual artist Tony Sarg created the template for the 20th-century travelling puppet theater. Basing his techniques on the classic marionette shows of Thomas Holden's London-based company, Sarg brought puppet theater of high artistry to New York City and then to venues across the U.S. While he was well aware of the Little Theater Movement's experiments, Sarg stuck to such shows as
Jack and the Beanstalk
,
Treasure Island
,
Alice in Wonderland
, and other popular fare. Sarg soon employed multiple companies which traversed the country performing his productions, and many of Sarg's puppeteers, including Lilian Owen 
Thompson, Sue Hastings, Bil Baird, Hazelle Rollins, and Rufus and Margo Rose, eventually struck out on their own.
Two, three, or four puppeteers could make a living by touring and performing marionette or hand-puppet shows regionally or across the U.S. Such couples as Rufus and Margo Rose, Frank and Elizabeth Haines, Martin and Olga Stevens created shows with collapsible stages that could fit into a truck or automobile trailer and, taking advantage of the growing highway system, develop their own touring circuit.

Ghosts of Christmas Past, Present, and Future
Marley's Ghost
Scrooge
Tiny Tim

A Christmas Carol
, after Charles Dickens

Frank and Elizabeth Haines

1937
Frank and Elizabeth Haines began working as puppeteers in the early days of the Depression. Frank's wood-carving talents and Elizabeth's costuming and playwriting skills made them one of the most renowned marionettes troupes in the Northeast.  Based in the Philadelphia area, the Haines created a variety of productions for children--including
The Gingham Dog and the Calico Cat
(1931)
, The Three Bears
(1932),
The Three Little Pigs
(1932),
Cinderella
(1932),
Hansel and Gretel
(1933), and
The Bremen Musicians
(1938)--as well as shows for adults--
Old Fashioned Amateur Night
(1937),
The Chinese Nightingale
(1941),
Coffee Cantata
, and
The Connecticut Yankee
--which they performed in schools and other venues across the Eastern Seaboard from the 1930s to the 1960s. They premiered
A Christmas Carol
at the North Baptist Church in Jenkintown, Pennsylvania on December 30, 1937.

Huntsman
The Queen
Magic Mirror
Snow White
Three Dwarfs
Snow White and the Seven Dwarfs
Rufus and Margo Rose

1937
Puppeteers Rufus and Margo Rose were the leading husband-and-wife puppeteer team in the United States from the 1920s through the 1950s. They met in 1928 while members of Tony Sarg's puppet company, where they learned the design and performance traditions of European-style string puppet. They married in 1930 and a year later formed the Rufus Rose Marionettes. The couple toured across the United States for nearly two decades, booking shows despite the hardships of the Great Depression. The Roses' national touring productions included
The Variety Show
(1931),
Pinocchio
(1934),
Snow White
(1937),
Treasure Island
(1937), and
Rip Van Winkle
(1941). Difficulties brought on by the Second World War caused the Roses to put their marionette touring on hold in 1942.
The Roses began working in film in 1938 with
Jerry Pulls the Strings
, and in the 1950s
performed marionettes for the NBC children's show
Howdy Doody
and produced their own television productions such as
The Blue Fairy
(1958).
Art as Object Performance: Socrate
Avant-garde puppetry flourished in early 20th-century Europe, but did not enjoy a similar notoriety in the U.S. Despite Little Theater Movement inspirations, radical experiments were rare. In 1931 Remo Bufano designed giant marionettes for Igor Stravinsky's
Oedipus Rex
at the Metropolitan Opera House in New York. Five years later sculptor Alexander Calder designed simple geometric moving sculptures to complement Erik Satie's 1919 symphonic drama
Socrate
, for performances in Hartford's Wadsworth Atheneum Museum of Art.
The Atheneum's director, Arthur "Chick" Austin, had long labored to make Hartford a center of modern art, and in 1934 presented the groundbreaking Virgil Thomson/Gertrude Stein opera
Four Saints in Three Acts
. And Alexander Calder had spent the late 1920s and early 30s in Paris soaking up the rich variety of avant-garde art and performance being produced by such artists, dancers, musicians and writers as Pablo Picasso, Fernand Léger, Jean Cocteau, Satie, and the Ballets Suédois. To produce
Socrate
--"a ballet danced by shapes and colors" (as historian Eugene R. Gaddis put it)--made total sense to Austin and Calder. But for Hartford and the rest of the country, it was an entirely new conception of how music and objects could combine. In 1976 conductor Joel Thome, with Calder's blessing, re-created the artist's moving sculptures for
Socrate
, which was performed the following year, after Calder's sudden death, in sold-out shows at the Beacon Theatre.

White Rectangle
Red Disc
Steel Hoops

Socrate
, by Erik Satie

Alexander Calder

Reconstructed in 1976 after 1936 originals

From the collection of Joel Thome
Erik Satie's 1919 "symphonic drama in three parts" is based on three texts by Plato about the great Greek philosopher Socrates, and is written for two voices and a small orchestra. Inspired by the radical puppet and performing object experiments he had witnessed in Paris, and by the possibilities of object performance he had explored with the wire puppets of his miniature
Cirque Calder
(1926) Alexander Calder designed these three geometric sculptures to be the central performers in his 1936 production for The First Hartford Festival at the Wadsworth Atheneum. "Why not plastic forms in motion?" Calder asked in an essay from the 1920s. "Not simple translatory or rotary motion, but several motions of different types, speeds and amplitudes composing to make a resultant whole. Just as one can compose colors, or forms, so one can compose motions." These inspirations led Calder to invent his famous mobiles, but also to create stage productions with performing objects such as the ground-breaking
Socrate
. These reconstructions were recreated with Calder's approval for a 1977 performance of
Socrate
produced by Joel Thome, Director of the Orchestra of Our Time, as part of the National Tribute to Alexander Calder at the Beacon Theatre in New York.
Puppetry as Modern Theater: Marjorie Batchelder
Marjorie Batchelder (1903-1997) stands out as a particularly strong and prescient modern puppeteer. An Illinois native, she studied teaching at the School of the Art Institute in Chicago in the 1920s, and then pursued puppetry for her M.A. (1934) and Ph.D. (1942) degrees from Ohio State University. Batchelder's puppetry interests were deep and wide-ranging. Influenced by the Little Theater Movement, she created puppet plays for adults such as
Doctor Faust
(1932) and Aristophanes'
The Birds
(1934) as well as Maurice Maeterlinck's
Death of Tintagiles
(1937), and Edward Gordon Craig's
Mr. Fish and Mrs. Bones
(1939).
Entirely adventuresome, she experimented with all forms of puppetry, including rod puppets, whose roots she found in Indonesian
wayang golek
as well as in European forms. Together with the equally visionary puppeteer Paul McPharlin, she co-organized the first puppetry festival in the United States, an essential nationwide gathering of puppeteers in 1936 that soon led to the founding of the Puppeteers of America. Batchelder married McPharlin shortly before he died in 1949. She was a prolific writer, producing
Rod-Puppets and the Human Theatre
and
The Puppet Theatre Handbook
(both in 1947), the latter of which Jim Henson turned to when he wanted to teach himself how to become a puppeteer. She moved to Santa Fe, New Mexico in the 1950s, and in  the 1960s traveled widely, researching socialist puppet trends in eastern Europe, and teaching puppetry in India. In 1969 she published a revised and updated version of her husband's
Puppet Theatre in America
, which to this day is the most comprehensive history of the form as it has developed in the United States.

Chorus of Birds
Hoopoe, King of the Birds
Sacrificial Goat
Euelpides
Iris
Poseidon
Meton
Prometheus
Hercules
Pisthetaerus

The Birds,
by Aristophanes

Marjorie Batchelder McPharlin

1934
Marjorie Batchelder created her version of Aristophanes' classic comedy for her M.A. degree at Ohio State University. The story features a flock of birds who create a utopian city in the sky which soon out-rivals the power of the Greek gods, but also satirizes the political and social life of Athens.
In describing the production Batchelder wrote "[t]he bodies and hands were carved from cypress wood; the costumes followed Greek fashions of the period, and the faces were made as masks. A special stage, with a double bridge was constructed, and music was arranged by Beatrice Perham, then on the OSU staff."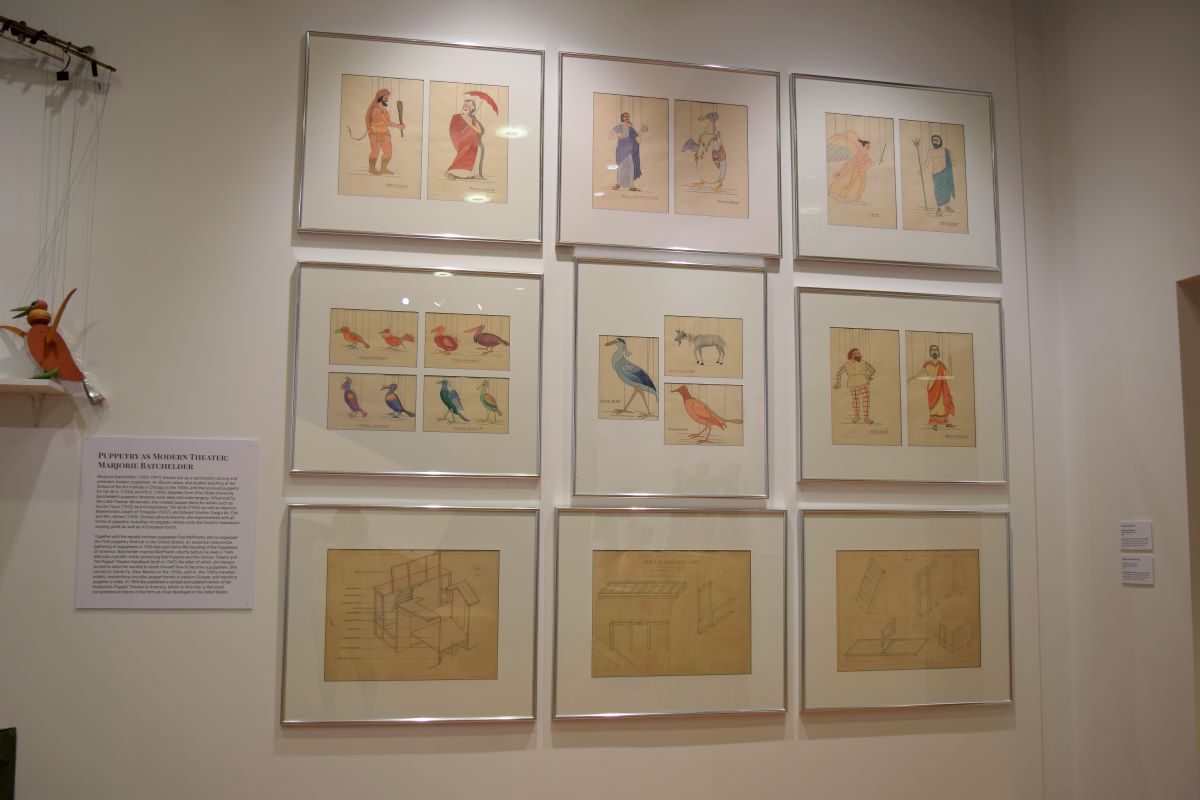 Plans for a Marionette Stage
Designed by Paul B. Diederich
Drawn by Marjorie Batchelder

1934
Marjorie Batchelder's colleague at Ohio State University, Paul B. Diederich, designed the marionette stage for her production of
The Birds
. Diederich went on to become a noted sociologist and educator.
Character Renderings

The Birds,
by Aristophanes
Marjorie Batchelder McPharlin

1934
Marjorie Batchelder painted these character sketches for
The Birds
as she designed the show in 1934 at Ohio State University. Her bold sense of puppet characterization is fully evident in her imagery.
Puppets and the Little Theater Movement
As a conscious alternative to the large-scale professional theaters across the U.S. featuring melodrama, musicals, vaudeville, and other spectacle, the Little Theater Movement wanted to develop drama as art, not commerce. Inspired by European innovators of dramatic Realism (Anton Chekhov, Henrik Ibsen) and Symbolism (W. B. Yeats, Maurice Maeterlinck), American Little Theater makers were also enamored of the possibilities of puppetry as a sophisticated art form, particularly as those ideas were articulated by English designer and director Edward Gordon Craig. Chicagoan Ellen Van Volkenburg and her British partner Maurice Browne initiated the movement when they founded the Chicago Little Theatre in 1911, and this soon inspired groups across the country, including the Provincetown Playhouse and the Neighborhood Playhouse (both in New York City), and the Cleveland Playhouse; and the nurturing of new voices in American drama, including Eugene O'Neill and Susan Glaspell. Puppets, masks, and performing objects were regular features of Little Theater productions. Puppeteers Ralph Chessé (in San Francisco) and Lou Bunin (in New York) each produced marionette versions of O'Neill's expressionist tragedy about African American experience,
The Emperor Jones
, and puppet versions of Shakespeare and Greek drama were common. The movement inspired our own Frank Ballard to perform many of his marionette dramas in the Alton Little Theater in the early 1940s.

Two Clowns
Cleopatra
Harry Burnett,
Turnabout Theater

1940's
Harry Burnett, Forman Brown and Richard Brandon created the Turnabout Theater in Los Angeles in 1941, after touring the United States in the 1930s as the Yale Puppeteers.  The Turnabout Theater quickly became a vital and popular center of puppetry on the West Coast, attracting large audiences and many Hollywood celebrities  (from Gary Cooper and Martha Graham to Albert Einstein and Bertolt Brecht)  to its unusual performances of cabaret (featuring the English actress Elsa Lanchester) and puppet theater, and becoming the most commercially successful live puppet theater of its time.  Their theater in Hollywood had two stages at opposite ends of the hall, one for the puppet performances and the other for Lanchester's cabaret songs.  The seats in the theater were from old Los Angeles street cars, and could "turn about" to face either direction. The company's puppet shows, according to the Los Angeles Public Library, "commented on the political interests of the day" and also included "comic adaptations of classical literature" such as
Caesar Julius
,
Gullible's Travels
,
Mr. Noah
, and
Uncle Tom's Heb'bn
. The Turnabout Theater was unusual because Forman Brown (who wrote their shows) and Harry Burnett and other members of the company were openly gay—unusual for the 1940s and 50s. The Turnabout Theater closed in 1956, in part because of competition from television.

Hamlet
Gravedigger

Hamlet
, by William Shakespeare

Ralph
Chessé

1928 
Puppeteer, painter, and actor Ralph Chessé (1900-1991) was born to a French-Creole family in New Orleans, and was largely self-taught as an artist. He moved to San Francisco in 1924, where he was introduced to puppetry by Blanding Sloan, who created his a marionette theater in 1928. At Sloan's theater Chessé created such adult dramas as
Hamlet
,
The Emperor Jones
and
Macbeth
, all in 1928. Over the next eight years Chessé created over 11 more productions, including
Don Juan
(1929),
Romeo and Juliet
(1931),
The Mikado
(1933),
H.M.S. Pinafore
(1933),
Uncle Tom's Cabin
(1933),
Alice in Wonderland
(1934), and
Dr. Jekyll and Mr. Hyde
(1934). In 1936 he was appointed head of the Federal Theatre Project's California Marionette Unit, with whom he directed Meyer Levin's
The Crock of Gold
, and produced
Pinocchio
,
Hansel and Gretel
, and
Snow White
.
After World War Two, Chessé began to teach puppetry for adult education at San Francisco State College, and produced commercials for television. In 1953 he created the award-winning television program
Brother Buzz
, which was broadcast for the next 16 years, becoming the longest-running children's program in San Francisco history. 

Emperor Jones
Congo Witch Doctor

The Emperor Jones
, by Eugene O'Neill

Ralph
Chessé

1928
Because of the intense discrimination he experienced as a child in New Orleans, Ralph Chessé suppressed his Creole heritage and African American roots, which his family discovered only in the late 1960s. However, black subject matter was central to Chessé's paintings, and must have been part of the reason he chose to make Eugene O'Neill's 1920 hit play
The Emperor Jones
one of his first marionette productions. Brutus Jones, the hero of O'Neill's expressionist Freudian drama, is an African American Pullman porter who becomes "emperor" of a West Indian island, but is forced to flee both his rebellious subjects and his repressed memories of racism in the U.S. as he races through the jungle. In the play's penultimate scene, Jones is confronted by the Witch Doctor, who represents the spiritual power of Jones' African roots, and demands that Jones offer himself for sacrifice. In the final scene, Jones is shot dead with a silver bullet by the rebels.

Mark Anthony

Cleopatra
, by William Shakespeare

Martin Stevens

1940
Martin and Olga Stevens, of Middlebury, Indiana began performing in 1934, and soon developed a repertoire of "really haunting, naturalistic marionette shows, primarily for adults" (as puppeteer Ronnie Burkett put it) which toured both locally and nationwide. At one point in their career, they had eight traveling companies on the road performing such serious dramas as
Joan of Arc
(1937) and
Cleopatra
(1940), as well as shows with
Christian
religious themes including
The Passion Play
and
The Nativity
(both 1935).  The Stevens were frequent collaborators with Rufus and Margo Rose, with whom they toured across the country and collaborated on the film
Jerry Pulls the Strings
(1938). The Stevens were charter members and active participants in the Puppeteers of America, which began in 1937. After World War Two, the Stevens created a rod-puppet version of
Macbeth
and hand-puppet
Taming of the Shrew
. Their classic hand-puppet allegory about Cold War politics,
The Toymaker
, was filmed in 1949. In 1960 Martin Stevens created a puppet correspondence course, which was popular for over two decades.

Punch
Judy
Devil
(Hand puppets)
Nicola Seraphine / Pinxy Larsen
1930's

From the Collection of David and Audrey Buchholz 
Nicola Seraphine started performing traditional Punch and Judy shows in an unheated storefront on New  York's Upper East Side in 1905. He later opened a movie theater on 49th Street that featured a puppet stage as well as a movie screen, and was still performing, in the Bronx, as late as 1947. His Punch and Judy set featured here includes hand puppets by George "Pinxy" Larsen, a Chicago-based Punch and Judy showman who was famous for crafting ventriloquist dummies, trick marionettes, and hand puppets.

The General
(Marionette)
The Rose and the Ring, after Thackeray, by Hettie Louis Mick 
Tony Sarg

1919 
Tony Sarg (1880-1942) was most successful puppeteer of his time. Born in  Guatemala to German parents, he learned marionette performance from the famous  Thomas Holden company in London. Coming to the United States in 1915, he created puppet company which trained scores of young puppeteers for his shows.  Sarg was also a graphic designer for Macy's department store, and in 1924  designed the first giant inflatable puppets for their Thanksgiving Day Parade. 
Ellen Van Volkenburg and Hettie Louise Mick of the Chicago Little Theatre helped  Sarg transform William Makepeace Thackeray's satirical pantomime
The Rose and the Ring
into a play for marionettes for New York's Neighborhood Playhouse in 1919. Paul McPharlin wrote that the production "set up an ideal for American puppetry: a good play, as a rule based on a familiar tale, with all the production details carefully worked out and integrated. Puppets, scenery, lights, properties,  and even the printed program, exhibited artistically."

Yank
Two Stokers

The Hairy Ape
, by Eugene O'Neill

Lou Bunin

1930

From the Marjorie Batchelder McPharlin Collection at the Ballard Institute
Born in Russia, puppeteer and stop-motion animator Lou Bunin (1904-1994) was inspired by puppets, political activism, and film animation, and in 1926 created the Marionette Studio with puppeteer Meyer Levin. Soon after, while apprenticing with muralist Diego Rivera in Mexico City, Bunin began to built a puppet version of Eugene O'Neill's 1922 expressionist critique of American capitalism,
The Hairy Ape
, which he and Levin ultimately brought to the stage in New York City in 1930.  Yank, a working-class stoker in the hold of an ocean liner, tells the other stokers that he, himself, is the human engine of modern society: "[D]at's me!--de new dat's moiderin' de old!," he tells the others. But in the course of O'Neill's play, Yank is rejected by all aspects of American society, and is finally crushed by a gorilla in the Central Park Zoo. A
New York Times
reviewer, according to historian Alisa Solomon, wrote "that is was a shocking revelation to him that puppets could express tragedy perhaps more powerfully than people."
Advertising and Commercial Puppets
Advertising in the U.S. began to flourish in the 19th century, and by the early 20th, the birth of the modern advertising agency professionalized the trade. Advertisers recognized that the visceral power of puppetry could be an effective medium, and began to employ puppets, especially in film and television. The 1938 film
Jerry Pulls the Strings
brought together some of America's most talented puppeteers to create a half-hour infomercial about coffee for the American Can Company. Bil Baird, Frank and Elizabeth Haines, and other puppeteers of the 30s and 40s created advertisements for gasoline, beer, cereal, and other products, beginning a tradition that came to include Jim Henson's 1950s work for Wilkins Coffee and La Choy Chow Mein.
Educators in the early 20th century also realized that puppets could also be powerful tools for children's development. Various teachers and school systems began to devise curriculum involving puppetry, and entrepreneurs such as Hazelle Rollins realized that well-designed, mass-produced puppets could be a valuable addition to childhood development in the home. Rollins initiated the business of puppets as toys, but maintained an essential focus on education as the ultimate goal of the form.

Little Lubie
Gretz Beer Bicyclist
Frank and Elizabeth Haines

1940-1941
Although noted for their exquisitely designed and performed live marionette shows in the 1930s and 40s, Philadelphia's Frank and Elizabeth Haines were at the same time pioneers in the new medium of television, for which they created a variety of commercials.  Their marionettes were used some of the first television experiments conducted by Philadelphia's Franklin Institute in 1939, and their commercial for Atlantic White Flash Gasoline (with Little Lubie) was the first publicly broadcast television advertisement to use marionettes, and seen on Philadelphia's WPTZ in 1941.  The Haines created the television mascot for Philadelphia's Gretz Beer Company, with a variety of different outfits and props, including the penny farthing bicycle he is riding here.

Little Red Riding Hood toy theater
Tony Sarg

1926
New York City puppeteer Tony Sarg designed this toy theater version of
Little Red Riding Hood
for the Albany Perforated Wrapping (A.P.W.) Paper Company in 1926, one of the leading distributors of toilet paper.  The cardboard box, which originally held four rolls of toilet paper could be turned into a toy theater with sets and characters for the story.

Papa Goat
Mama Goat
Baby Goat
Donkey
Jerry Pulls the Strings
Bil Baird

1938
In 1934 a puppeteer dream team--Bil and Evelyn Baird, Rufus and Margo Rose, and Martin and Olga Stevens--created
Jerry Pulls the Strings
, a promotional film for the American Can Company portraying the history of coffee and, as puppeteer Fred Thompson put it, "the virtues of tin-can packaging and the vacuum process. The film is considered by many to be the first full-length commercial film using puppets.
Jerry Pulls the Strings
was filmed in a converted church in Hempstead, Long Island.  The builders and puppeteers on the project, according to Thompson, were Rufus and Margo Rose, Martin and Olga Stevens, Bil and Evelyn Baird, Frank and Fania Sullivan, and Sylvia Meredith. "Margo sculpted all of the heads," Thompson writes, "and Rufus and Martin took charge of building. Olga, along with Margo, did the sewing of the costumes. Bil Baird built Kaldi the shepherd and the goat puppets used in the Kaldi scene, in which caffeine is discovered in coffee beans." Baird's donkey appeared in the film's South American plantation scene, reluctantly pulling a cart laden with coffee beans, and then characteristically sitting down on the job.
Witch
Buckaroo Bill
Tomboy
Little Bo Peep
Jim Cricket
Magic Fairy
Alice
Hazelle Rollins

Early 1950s 
Hazelle Hedges Rollins (1910-1984) grew up in Kansas City, Missouri fascinated  by puppets, which she built and performed with friends in her neighborhood.  After studying Fine Arts at the University of Kansas she started making puppets  for children, and went to New York City to attend a toy fair, and met Tony Sarg,  with whom she worked and performed. Upon returning to Kansas City, she  decided to create her own enterprise for bringing educational and entertaining  puppets for children, founding Hazelle's Marionettes in 1935. She hired seven  women, began mass-producing marionettes, and the next year filed three patents  for improved marionette design, including the airplane controls you see here.  In 1941 she married industrial engineer John Rollins, who helped her develop  assembly-line methods to increase puppet production. By 1947 Rollins' company  had 50 employees and was producing over 1,000 puppets per week. Her first  puppets were made of wood composite, and by the early 1940s she was  experimenting with a special plastic formula for more durable heads. Rollins  designed advertising and packaging, wrote plays for her puppets to perform, and  was ready for a boom in puppet popularity beginning in the 1950s. She retired in  1975. Rollins believed that puppets were an exemplary way to teach mutual  ethnic and global understanding.

Fireman
Chorus Girl
Nellie Bly
Bil Baird

1945-46 
Baird's puppets regularly appeared in Broadway productions of the 1940s and  50s, including the Fireman and Chorus Girl from
Nellie Bly
, a 1945 Broadway musical about the globe-trotting 19th-century female reporter.  
Nebraskan-born Bil Baird became smitten with puppetry after seeing a Tony Sarg touring production in 1921. Seven years later he was working with Sarg in New  York City, and in 1934 started his own company, the Baird Marionettes, which first performed at the Chicago World's Fair the same year. Baird's hand puppets performed the Seven Deadly Sins in Orson Welles' 1937 Federal Theatre Project production of Doctor Faustus, and his marionettes performed in such Broadway shows
Flahooley
(1951) and
Baker Street
(1965), as well as
Nellie Bly
. Baird worked extensively in film and on television in the 50s and 60s, and performed around the world on State Department-sponsored tours in the 1950s.