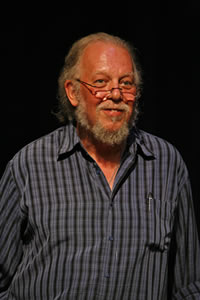 Bart Roccoberton has been a professional Puppet Artist for almost twenty-five years. He holds a B.A. in Speech and Technical Theatre from Montclair State College in New Jersey and an M.F.A. in Puppet Arts, which he earned at The University of Connecticut, where he studied under Professor Frank Ballard.
For more than 20 years he has toured popular puppet performances to schools, libraries, colleges, theaters and museums from Washington, D.C. to Montreal with his own troupe, The Pandemonium Puppet Company, and with the students of The Eugene O'Neill Theater Center's Institute of Professional Puppetry Arts and The University of Connecticut's Puppet Arts Program. He has created and performed characters for television programs, New York theatre productions and special commissions; his workshops, which are presented for elementary, secondary and college students and teachers are in demand across the United States and have been published in national magazines; exhibits he has organized of his own work and the work of others have been presented in both extended and permanent runs; as Founder and Director of The Eugene O'Neill Theater Center's Institute of Professional Puppetry Arts (1984-1990), he became recognized, internationally, as one of the leading advocates for the Puppet Arts in the U.S.. He continues to serve as Managing Director of The National Puppetry Conference at the O'Neill Center.
In September, 1990, Mr. Roccoberton succeeded Frank Ballard as head of The University of Connecticut's Puppet Arts Training Program, the only degree-granting program of its kind in the United States. In June of 1992, Bart Roccoberton was elected to the Board of Directors of UNIMA-U.S.A. (Union Internationale de la Marionnette), served as a delegate to the international plenary of UNIMA in Ljubljana, Slovenia and was appointed a counselor of the UNIMA-International Professional Training Commission. In July of 1993 he was appointed UNIMA liaison to the 1994 Henson International Puppetry Festival, which took place at Joe Papp's Public Theatre in New York City in September 1994.
In the summer of 1994, Mr. Roccoberton worked with Ms. Zhang Ze Hua, one of China's leading puppet artists, to produce a television program for China, which will show its audience true aspects of real American life through the vehicle of an adventure story based upon trust and friendship.
Most recently, Bart Roccoberton has been appointed as a delegate to the 1996 international plenary of UNIMA, which will take place in Budapest, Hungary.