Margo and Rufus Rose (1903 – 1997, 1904 – 1975)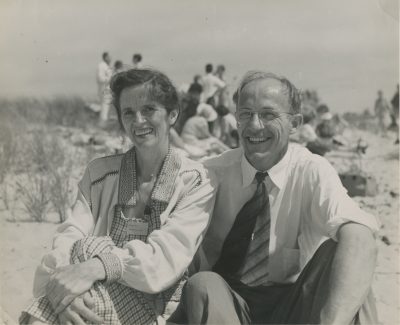 "Rufus Rose was born in Connecticut and educated at Antioch College. Margaret Skewis Rose, his wife and partner, was born and educated in Iowa. In the late 1920's both Roses were members of the Tony Sarg Company. They were married in 1930, starting the Rufus Rose Marionettes in 1931. Their touring productions continued until 1942. In 1938 they produced a full-length advertising film and in 1948 a telecast of Scrooge, on Christmas Eve, over ABC-TV. In 1952 they became associated with the Howdy-Doody Show, continuing until 1960. Margo and Jim Rose, the oldest of three Rose sons, are associated with the current revival of this show." [From Toward an Art of the Puppet: New York's Heritage, exhibition brochure. 1975ish?, pg.32]
The Puppetry of Rufus and Margo Rose
Puppeteers Rufus and Margo Rose, of Waterford, Connecticut, the leading husband and wife puppeteer team of their day, were often billed as 'America's Foremost Artists of the Marionette Theatre'. Trained in the pioneering Tony Sarg Studios in New York City, where they met in 1928, the Roses established their own puppet company in 1936 and remained active until the mid-1970s.
Their work first gained public attention during the 1936 World fair in Chicago. The Roses' production of Scrooge made television history in 1949 as the first live broadcast of a full-length marionette production. The best-known Rose creation is the character of 'Howdy Doody', who appeared on every American child¹s television screen in the 1950s. Margo designed and sculpted the characters for the Howdy Doody show, and Rufus operated 'Howdy'.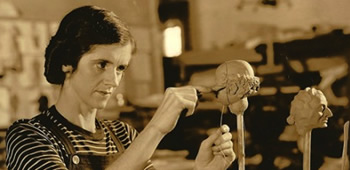 Margo designed and modeled each figure for their productions, and was a superb manipulator whose delicate handling of a marionette was reminiscent of 'plucking a harp'. Rufus built all their puppets and developed many innovative approaches to manipulate them in order to create an impression of realism.
The Roses' national touring shows included Aladdin (1934), Pinocchio (1936), Snow White (1937), Treasure Island (1938), and Rip Van Winkle (1939). Following Margo's death in 1997, their collection was donated to the Ballard Institute and Museum of Puppetry.
---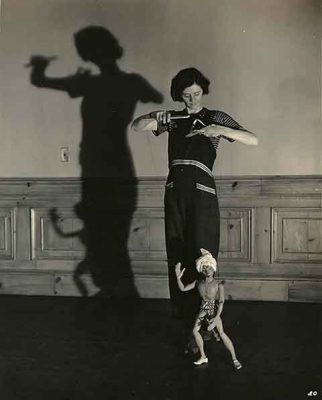 Margo Rose, born in 1902 in Iowa, attended Connell College in Mt. Vernon, Iowa studying English and Art. It was there that she met Professor Hull, who encouraged her to attend a showing of the Tony Sarg players performance of Don Quixote. She was intrigued and read Tony Sarg's book on puppetry. Her sister, a schoolteacher, also read the book and proceeded to make a set of Goldilocks and the Three Bears marionettes out of old teddy bears and dolls. It was then the Margo realized the wonder of these "dolls" and that she could literally bring them to life.
After graduation in 1924, she mounted her own production of Snow White, which was "awful", in her own words. She wrote to Tony Sarg and to surprise he granted her an interview. In 1927 Sarg offered her a job as a traveling artist and one of only five puppeteers. She became involved in productions of Ali Baba, Rip Van Winkle, Alice in Wonderland, Christopher Columbus, and various variety shows.
Through this experience Margo had the chance to meet many of the top puppeteers: Tony Sarg, Burr Tilstrom, Bil Baird, Charles (Matt) Searle, Martin and Olga Stevens and the Tattermans, many who she continued working relationships with for years. In 1929, Rufus Rose, her future husband, joined the Sarg company and they married a year later.
Deep in the throws of the depression, Tony Sarg was forced to make pay cuts, and in an effort to make more money, Rufus and Margo split off in 1931 to create their own company, the Rufus Rose Marionettes. Their first show was Dick Whittington debuting in the 1931-32 season. As they traveled to various venues in all fifty states, they were offered 50% of the take, with spaces charging ten cents for children and fifty cents for adults. In 1933 the World's Fair in Chicago signed Tony Sarg to do a show, and Sarg hired the Roses to do a variety act; a fifteen minute show thirteen times daily. It was steady work in a time when work was scarce. The Roses had their first child, James, in October 1933 and their second child, Rufus, the next year.
In an effort to do more projects near home, Rufus and Margo created the first full-length movie with no human characters. "Jerry Pulls the Strings" was triumph for the puppetry community and brought marionettes into the public eye. As World War II rocked the country the Roses put their puppets on hold. Rufus worked with electrics and Margo worked with the Red Cross volunteers.
After more touring, the Roses were again given a golden opportunity; to handle the strings of Howdy Doody, from 1952-1959. They also took part in the production of the syndicated television show, The Blue Fairy which provided them with a Peabody Award for excellence. Treasure Island and Aladdin were among the many films they created.After the Allied victory life went back to normal for the Roses beginning with a tour of Rip Van Winkle, Treasure Island and Aladdin. ABC asked the Roses to do the first live performance of a marionette show on television and they entertained America for one hour on Christmas Eve, 1946, with their adaptation of Charles Dickens's A Christmas Carol. In that same year, the Roses helped found the Connecticut chapter of Puppeteers of America and gave over their home for the yearly festival of that organization.
When asked what they had contributed in their long career to the world of puppetry, Margo Rose replied "we made good puppets."Rufus was elected to the Connecticut State Legislature in 1961 and served for 12 years, and Margo continued to teach at the Institute of Professional Puppetry Arts (IPPA) in addition to teaching workshops all around the area. In 1974 they were awarded the Presidents Award from the Puppeteers of America and in 1997, when she was 95 years young, Margo was inducted into the Connecticut Women's Hall of Fame.