The plays of William Shakespeare (1564-1616) have been produced with human actors globally for over four centuries. Less well known are the many puppet versions of his dramas performed since the early seventeenth century. Shakespeare has been puppet-ized in order to introduce the classics to new audiences, to draw on the playwright's cultural cachet, or to appropriate his compelling stories. More recently, puppets have been used in Shakespeare's plays to perform the roles of children and animals, since they are easier to handle.
The modern and contemporary artists in this exhibition recognize the dramatic potential in puppets and everyday objects. They deploy them not simply to replace human thespians with miniature actors. Rather, they cast non-humans in roles to reveal metaphorical substrates of Shakespeare's plays. Puppets cast new light on dramatic characters and situations. This exhibition celebrates objects as legitimate actors for dramatic literature and the capacities of Shakespeare's plays as frameworks for exploring relations among people, things, and the world. This exhibition was curated by Dr. Jungmin Song.
Macbeth
Macbeth tells of a Scottish general who takes to heart the prophecy of three strange women that he will be king. Propelled by his wife and driven by lust for power, Macbeth kills those who stand in the way of kingship. Many puppet artists have been drawn to Macbeth's bloody murders, witchcraft, supernatural atmosphere, and hallucinations caused by fear and guilt. We present here five vastly different puppet approaches to the characters of Macbeth and Lady Macbeth that are fashioned into wrestlers, birds, household objects, gumball-machine ninjas, and Cubist-inspired marionettes.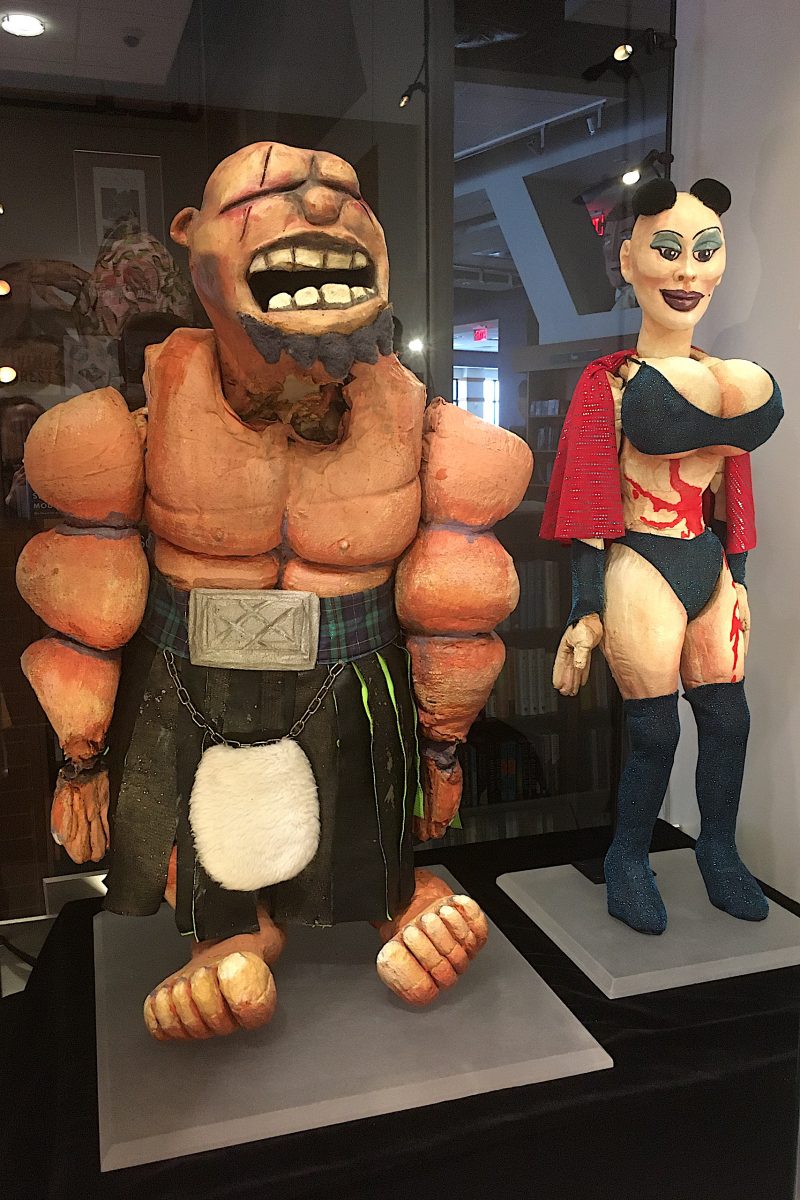 Wrestling Macbeth
2000
Center for Puppetry Arts
Puppets designed by Chris Brown
Adapted and directed by Jon Ludwig
Puppets built by Katie George, Chris Brown, Bob Lynch
Jaxsan-coated polyfoam, muslin, nylon webbing, rope, leather, wood, acrylic, spandex, plastic wood, latex, wool, vinyl, cotton, chain, elastic, springs
This version of Shakespeare's tragedy, produced by Atlanta's Center for Puppetry Arts, and directed by Jon Ludwig, took the form of a professional wrestling match on a stage designed as a wrestling ring. The show was described as "two-fisted, slammin', rammin' iambic pentameter meets rowdy, rockin', headbanging puppet action," featuring "all your favorite stars—Macbeth, Gorgeous Lady Macbeth, Duncan, Macduff and more—all fighting for the title."
A review of the production noted that the tragedy's major battle scenes and confrontations "are fought by muscle-bound puppets in the ring, from the 'Rebels vs. Thanes' that sets Macbeth on road to title, to the climactic 'Wrastle in the Castle.'" Play-by-play commentary "mentions pile-drivers and sleeper holds, as well as phrases clipped directly from Shakespeare's text, like 'They're bathed in reeking wounds!' or Macbeth's menacing slogan, 'Sleep no more!'"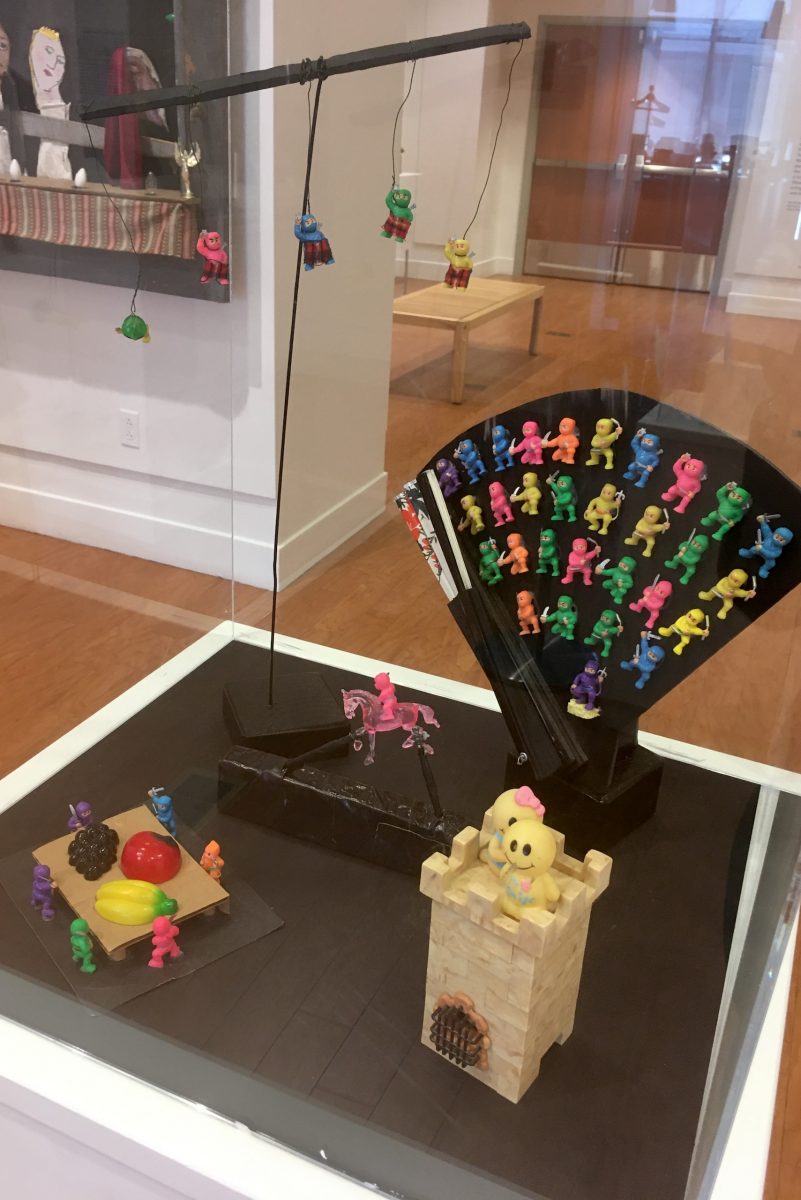 Tiny Ninja Theater presents Macbeth
2000
Designed, directed, and performed by Dov Weinstein
Tiny plastic ninjas, assorted dime-store figures, cardstock, glue
Dov Weinstein, a struggling actor in New York, came up with the idea for his tiny Ninja Macbeth one day when he found himself in front of a vending machine filled with plastic figurines encased in clear plastic eggs. As he told The Times of Israel (only a bit tongue-in-cheek): "I thought, 'Wow, so no one's using these to do classical theater. I figured I'd do 'Macbeth,' the shortest tragedy. I knew it couldn't be a comedy.'" Weinstein premiered his one-man Tiny Ninja Macbeth at the 2000 New York International Fringe Festival, and its success—due in large part to the seriousness with which he performed the tragedy—led him to tour the show around the world. Presented here are Macbeth and Lady Macbeth in their castle, King Duncan and his retinue feasting, a Messenger on horseback, the English army (disguised behind a fan), and a chorus of Ninja apparitions.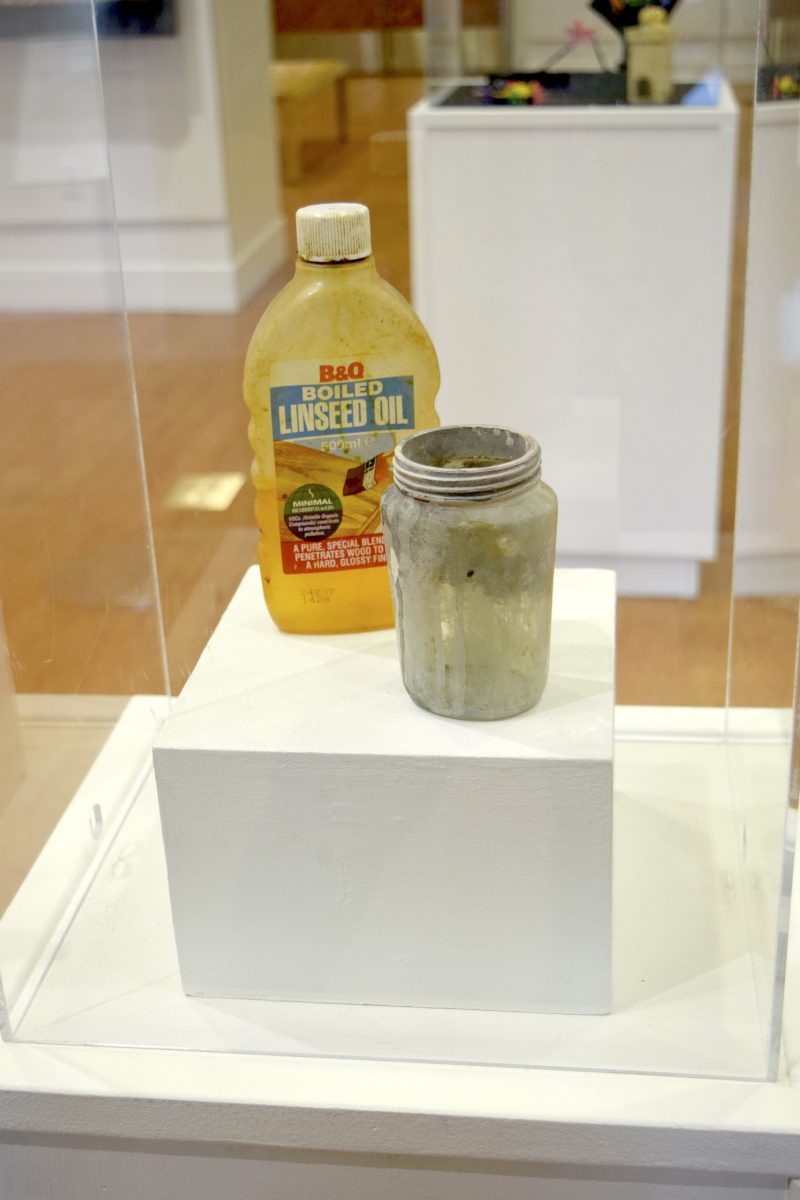 Complete Works: Table Top Shakespeare
2016
Forced Entertainment
Designed and performed by Richard Lowdon
Directed by Tim Etchells
Readymades
Forced Entertainment, a group of six artists based in Sheffield, England, created Complete Works: Table Top Shakespeare to include 36 Shakespeare plays. Each is presented in a condensed version, comically and intimately retold with a collection of everyday objects as stand-ins or puppets for the characters, on an ordinary table top. Forced Entertainment has long been obsessed with virtual or described performance, exploring the possibilities of conjuring extraordinary scenes, images, and stories using language alone. In a brand-new direction for the group, Complete Works: Table Top Shakespeare explores the dynamic force of narrative in relation to all of Shakespeare's plays. What follows is simple and idiosyncratic, absurd and strangely compelling performance as, through a kind of lo-fi, home-made puppetry, the stories of the plays come to life in vivid miniature.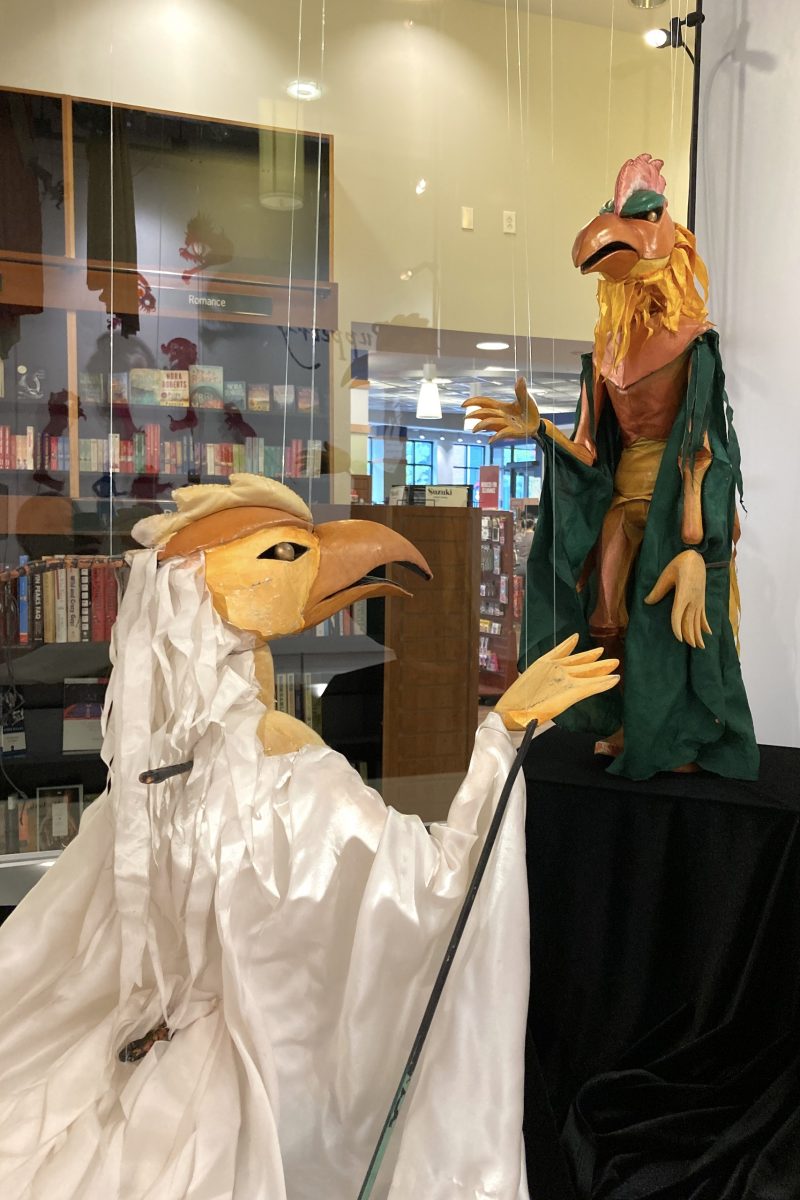 Macbeth
2013
Little Angel Theatre
Puppets created by Lyndie Wright
Directed by Peter Glanville
Wood, Cloth, Paint
Little Angel Theatre was founded in the Islington district of London in 1961 by John and Lyndie Wright, and has developed a national and international reputation for finely wrought and performed productions. After the death of John Wright in 1991, other artistic directors have guided the company, but Lyndie Wright has continued to this day as the theater's main puppet designer, in a workshop attached to the theater itself. Initially focused on marionette performance, Little Angel shows later experimented with different techniques, such as these rod puppet birds, designed by Lyndie Wright for a 2013 production of Macbeth directed by Peter Glanville, the company's artistic director from 2006 to 2013. All the puppets in this production of the Scottish play are birds, but, as can be seen here, they carry physical human features such as hands and feet to allow for a more diverse range of gestures.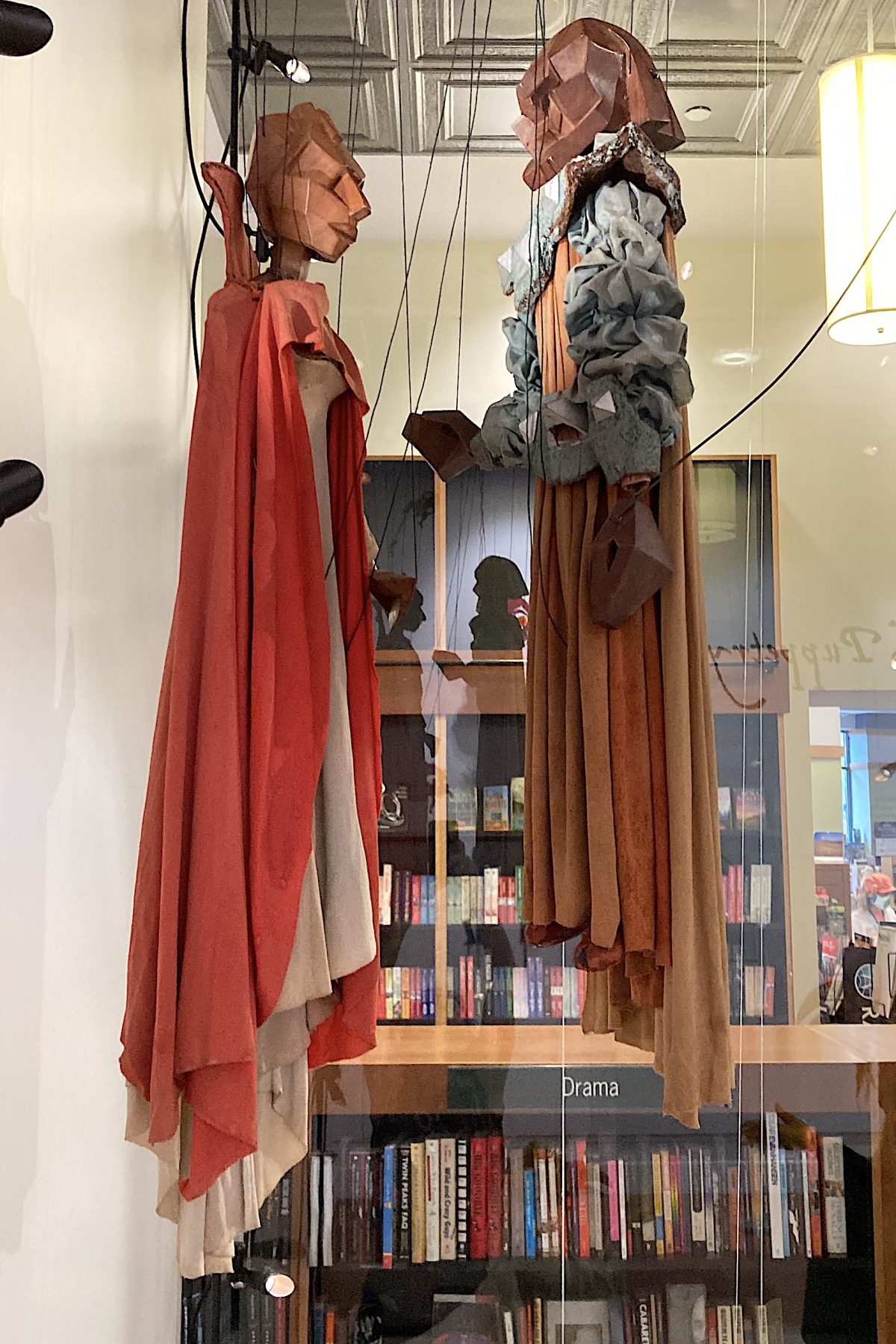 Macbeth
1959
Hogarth Puppets
Created by Michael and Jane Eve
Loaned by The British Puppet and Model Theatre Guild
Wood
Hogarth Puppets was founded in 1932 in London by Jan Bussell and Ann Hogarth, and used a variety of puppet techniques to create literary dramas, children's tales, poetry and songs, and music hall and circus acts. They became England's best-known puppet company, and pioneered the introduction of puppets on British television in the 1930s. These innovative cubist marionettes for Shakespeare's Macbeth were designed and built by Michael and Jane Eve for the company in 1959. They performed a sixty-minute version of the play and toured extensively across Germany, Italy, Australia and the United Kingdom.
Hamlet
This play about a prince of Denmark who seeks revenge against an uncle who killed his father and seized his father's throne and wife is perhaps the most famous play in the English language. The play presents particular challenges for puppet artists in staging the indecisive prince's long monologues inflicted by psychological conflicts. Puppet adaptations range in tone and intent—some wildly comical, others politically charged, or darkly psychological. In this exhibition you experience the substrates of Hamlet in out-of-ordinary scales such as a giant Ophelia, hand-puppet-sized cutouts, and a toy-theater incarnation of Laurence Olivier as Hamlet.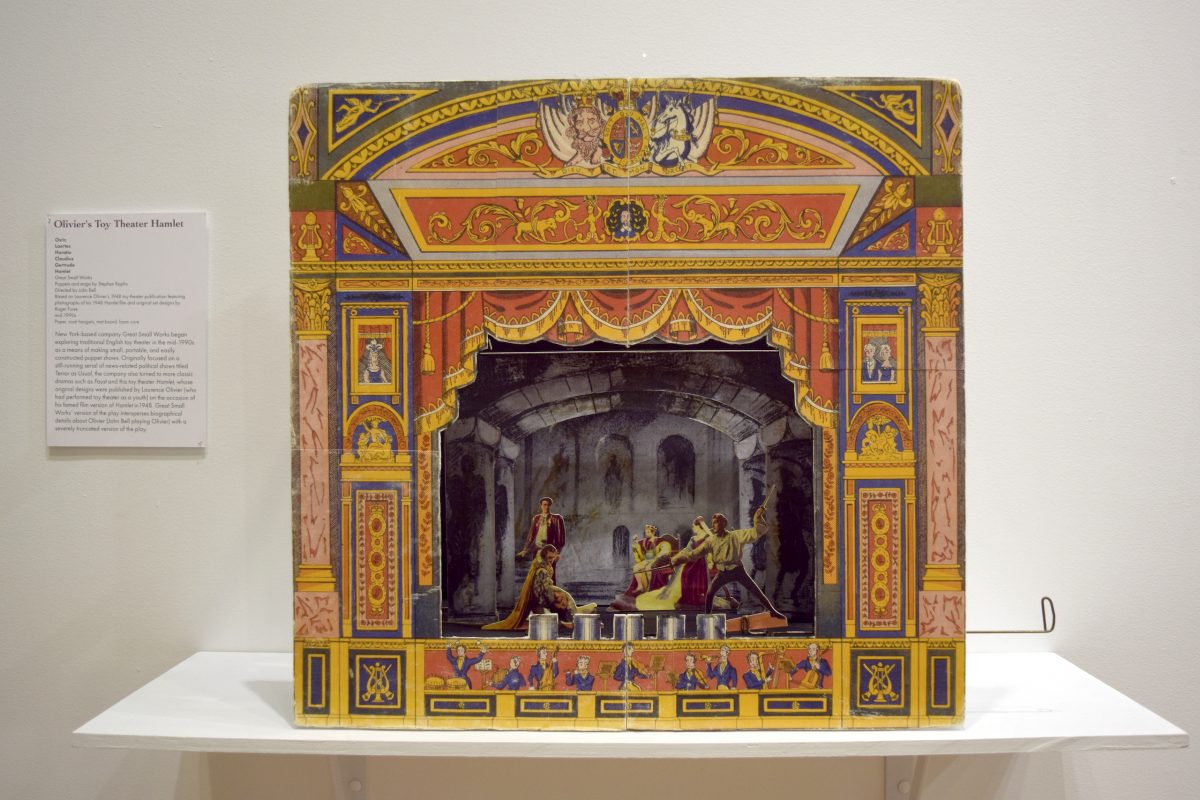 Olivier's Toy Theater Hamlet
mid-1990's
Great Small Works
Puppets and stage by Stephen Kaplin
Directed by John Bell
Based on Laurence Olivier's 1948 toy theater publication featuring photographs of his 1948 Hamlet film and original set designs by Roger Furse
Paper, coat hangers, mat board, foamcore
New York-based company Great Small Works began exploring traditional English toy theater in the mid-1990s as a means of making small, portable, and easily constructed puppet shows. Originally focused on a still-running serial of news-related political shows titled Terror as Usual, the company also turned to more classic dramas such as Faust and this toy theater Hamlet, whose original designs were published by Laurence Olivier (who had performed toy theater as a youth) on the occasion of his famed film version of Hamlet in 1948. Great Small Works' version of the play intersperses biographical details about Olivier (John Bell playing Olivier) with a severely truncated version of the play.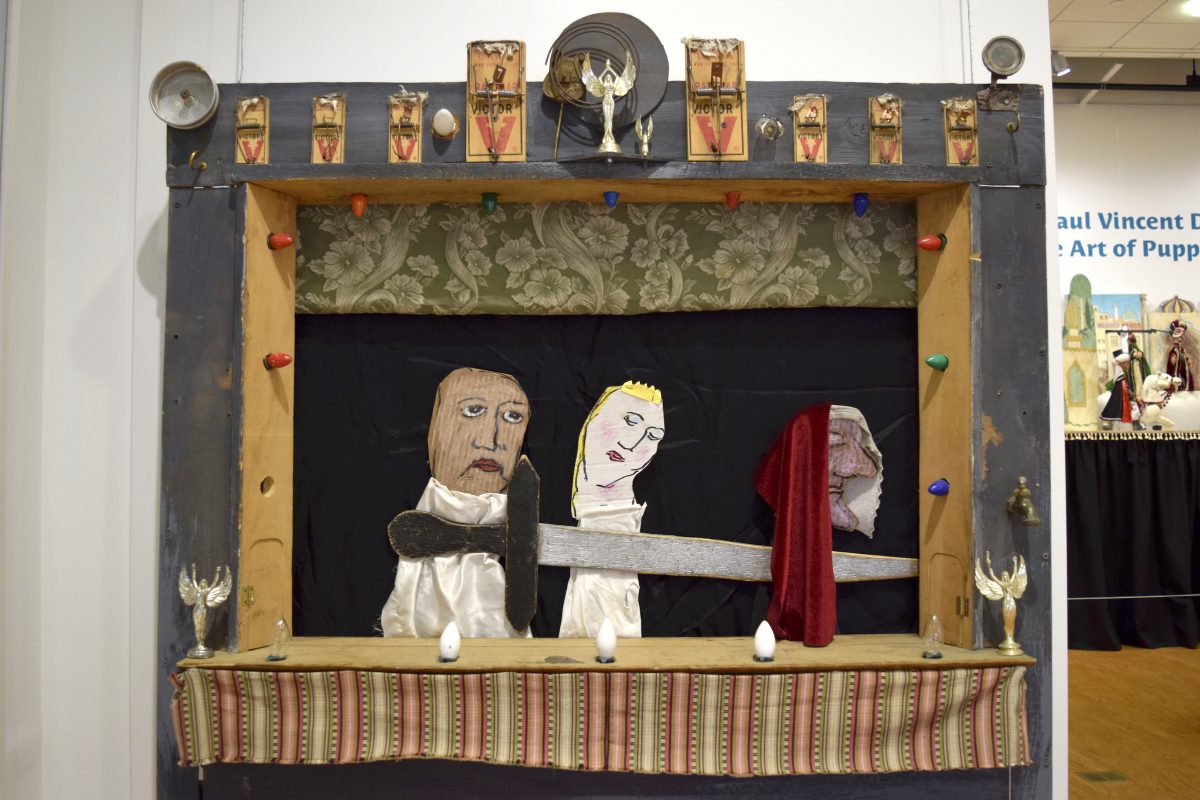 Totally Out of Joint Hamlet
2018
Bread and Puppet Theater
Designed and directed by Peter Schumann
Puppet stage by Modern Times Theater
Wood, cloth, cardboard, wire, mousetraps, plastic figurines, Christmas lights
In a striking shift from the giant cardboard marionettes which appeared other scenes of his Totally Out of Joint Hamlet, Peter Schumann staged the dramatic confrontation between Hamlet and his mother Gertrude—which culminates in Hamlet's sudden murder of the advisor Polonius—as "a fist-puppet murder mystery," in which Polonius "is murdered by an oversized wooden sword, followed by a recital of Emily Dickinson's 'I'm Nobody! Who are you?'" The hand-puppet stage used for this scene was created for Vermont-based Modern Times Theater's production The Jolly Banker.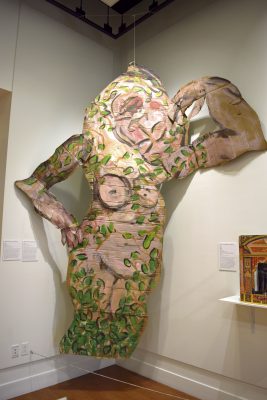 Totally Out of Joint Hamlet
2018
Bread and Puppet Theater
Designed and directed by Peter Schumann
Cardboard, wire, paint, staples
Bread and Puppet Theater director Peter Schumann created Out of Joint Hamlet for the Greensboro Arts Center in Vermont's Northeast Kingdom with a multi-generational company (aged 8 to 84) of thirty community volunteers. According to Schumann, "the urgency of the production was rooted in the out-of-joint-politics of the day that resulted in Trump's out-of-joint kingdom, and needed to be compared to this classic tale of another out-of-joint kingdom." The Arts Center's high catwalks inspired Schumann to design giant, flat, cardboard puppets for some of the major characters. Other scenes were performed on the small hand-puppet stage to the left. In addition to Shakespeare's words, Bread and Puppet's Out of Joint Hamlet included texts by Emily Dickinson, Donald Trump, and a high school textbook.
A Midsummer Night's Dream
Four young Athenians end up in an enchanted forest outside of the city where fairy king Oberon and his queen Titania try to resolve a conflict over an Indian boy, while mechanics are getting ready for a performance they will present at the wedding of King Theseus of Athens. A long night of mischief, with magical elixirs, mishaps of love, and metamorphoses ensues. Conventional productions with human actors cast puppets in the roles of fairies and the Indian boy. More experimental works prove that puppets can effectively take on human roles with a weird and wonderful edge.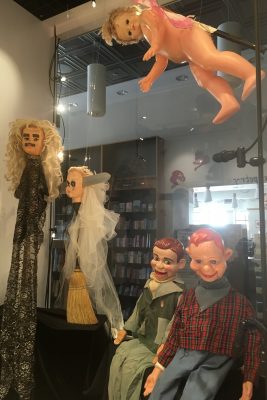 What Fools These Mortals Be: Shakespeare's A Midsummer Night's Dream Re-Visioned
1992
Written, directed, designed, and performed by Fred Curchack
Mixed media
Fred Curchack is an accomplished Texas-based performer, writer, director, and professor who has created over 78 original performances, five of which have been adaptations of Shakespeare. "I use many theatrical techniques," Curchack writes, "particularly puppetry and mask, to perform Shakespeare's transcendent language and also to confront the cultural assumptions and myths associated with the plays." Curchack frequently plays with Shakespeare's original texts to allow the actors and puppets to comment "in the characters' voices, or as actors, or as myself," at times directly addressing the audience. What Fools These Mortals Be was adapted texts from A Midsummer Night's Dream, and used puppets, masks, and shadow puppetry to reflect upon myths, expectations, and infantile illusions about love.
The Tempest
Prospero, the Duke of Milan, is exiled with his daughter Miranda to a remote island by his brother. Prospero uses his magical powers and the spirits of the island to wreck his usurper brother's ship, and arrange for his daughter's marriage, a reconciliation with his sibling, and his own return to Milan. Puppets shine in depicting powerful sorcery, nautical effects, and an exotic land inhabited by the ethereal spirit Arial and the monstrous slave Caliban, especially in the fleeting shadows you see here, cast by puppets influenced by traditional Balinese aesthetics.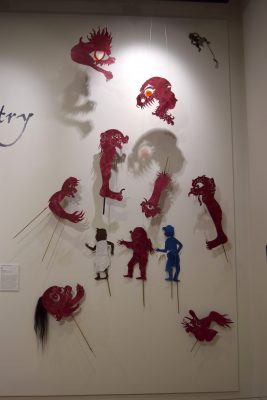 A (Balinese) Tempest
2005
Shadowlight Productions and Gamelan Sekar Jaya
Puppets designed and created by I Made Moja
Directed by Larry Reed
Mixed Media
ShadowLight was founded in 1972 by filmmaker/theatre director/shadow artist Larry Reed, an American dalang or shadow master who created his own method of "live animation film" combining shadow techniques with modern theater and film after training in Bali. Reed's productions are created by ensembles of writers, choreographers, composers, designers, actors, dancers, musicians and puppeteers from various cultural backgrounds. This production is accompanied by the music of Gamelan Sekar Jaya, a San Francisco-based ensemble. Reed finds the equivalent of Shakespeare's high drama, low comedy, and archetypal characters in Bali's traditional shadow puppet theater (wayang kulit). The scene depicted here shows monstrous Caliban and servants Trinculo and Stefano being chased into the swamp by magical creatures which closely resemble Balinese buta spirits.