The first performance event of the Ballard Institute's 2014 season will be the UConn Spring Puppet Slam, on Saturday, February 1 at 8 p.m. at UConn's Studio Theater.  Admission is free, and donations are greatly appreciated.  This event is produced with generous support from the Puppet Slam Network.
The Spring Puppet Slam will feature, as always, innovative new works and experiments by the talented students of UConn's Puppet Arts Program, as well as productions by guest artists from around the Northeast.
  Our guest productions next Saturday include the following:
– Fable of the Flying Fox: In this production by the Brooklyn-based Alphabet Arts company, Lawrence Carrillo and Jamie Moore, assisted by Amber West and Chris Borchardt, perform a tabletop show about a gluttonous fox who soars through treetops stealing eggs from unguarded nests.
– Lover's Waltz: Another Alphabet Arts production, performed by Lawrence Carrillo and Jamie Moore, this show is a love song between two elders, one with dementia, who have not seen each other for many years, performed with pop-up book scenery designed by Kirsten Kammermeyer. Music/story by Annie Bacon.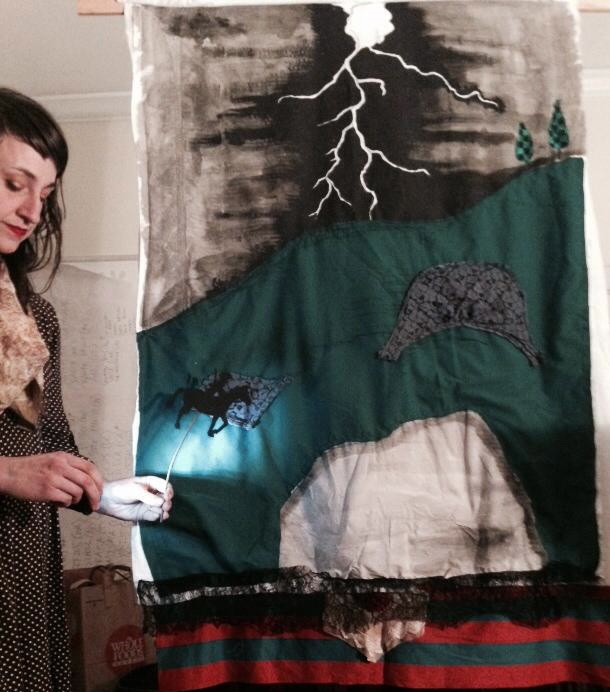 – Michelina De Cesare, La Brigantessa: a cantastoria, or picture performance, performed by puppeteers Maryann Colella and Angela DiVeglia, of Boston and Providence respectively, taking on one of the richest traditions of southern Italian popular culture: the romantic lives of the bandits.
Please join us for what will surely be an exciting and rewarding evening of compelling puppet theater!  These shows will be good for adults, teens, and kids.
Let us know if you have any questions!