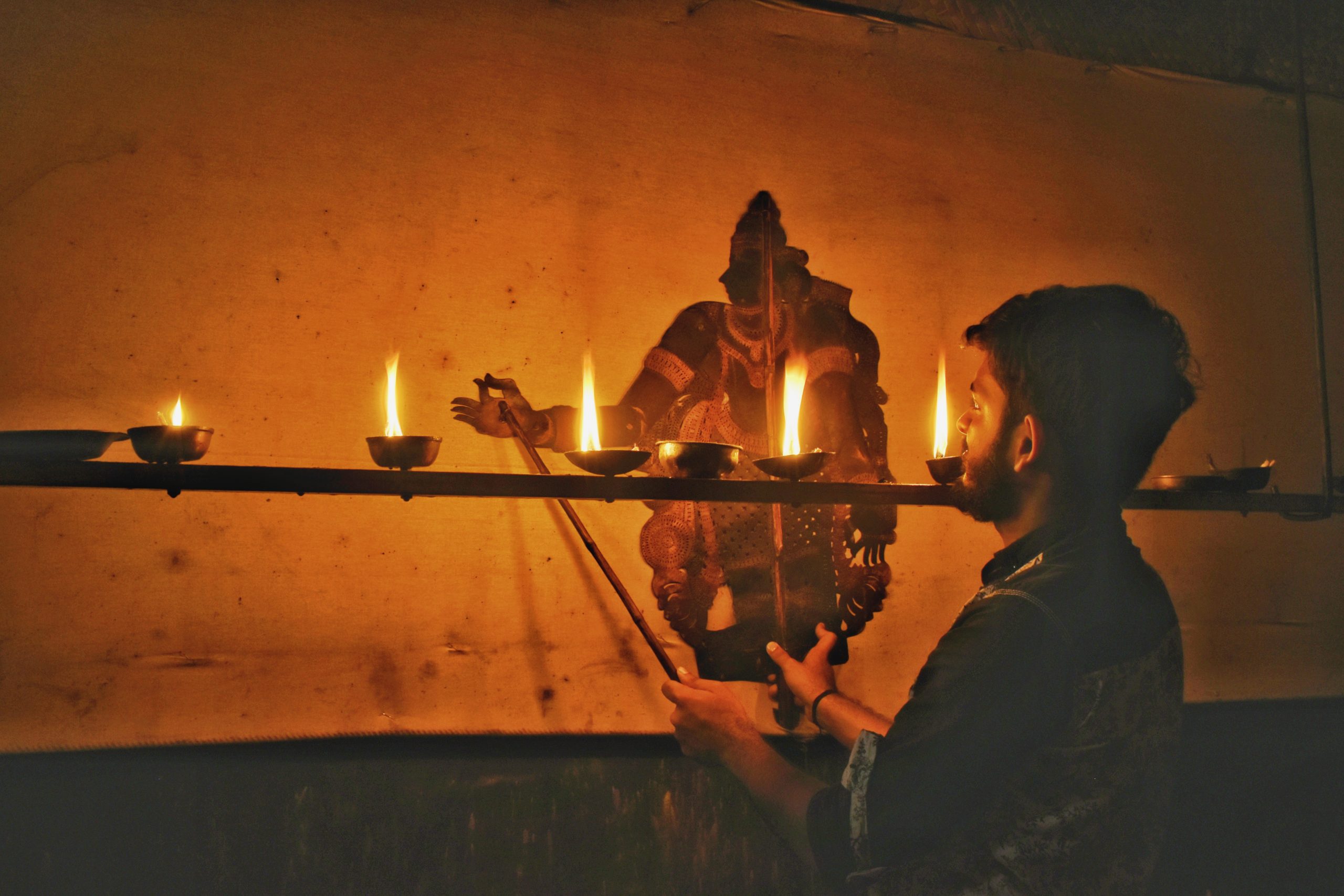 The Ballard Institute and Museum of Puppetry at the University of Connecticut will present the grand opening of its new exhibition Tradition and Revolution in Indian Shadow Puppetry on Friday, Aug. 4, 2023, with refreshments served at 4:30 p.m. and an in-person exhibition tour at 5 p.m. by curator Rahul Koonathara and Ballard Institute director Dr. John Bell, which will also be streamed on Ballard Institute's Facebook Live (facebook.com/BallardInstitute/). The opening events will also include a performance and workshop on Aug. 5 by world-renowned puppeteer Padmashri Ramachandra Pulavar of the Tholpavakoothu and Puppet Centre and his son Rahul Koonathara. All events will take place at the Ballard Institute, located at 1 Royce Circle in Downtown Storrs. 
Tradition and Revolution in Indian Shadow Puppetry, curated by puppeteer and University of Connecticut graduate student in the Department of Comparative Literature and Cultural Studies Rahul Koonathara, celebrates the spectacular South Indian shadow puppet traditions of Tolu Bommalatta and Tholpavakoothu, as well as recent innovations reflecting the changing nature of the form. For over thirteen generations Indian puppeteers have performed myths, customs, and rituals based on two Hindu epics, The Ramayana and The Mahābhārata. In recent years new variations in design, construction, and content have re-shaped traditional performances, which in many cases have shifted from temple performances to secular locales, and included new subjects such as the lives of Mahatma Gandhi, Jesus, and the animal characters of the Panchatantra, as well as contemporary social and political themes. Please note that this exhibition contains nudity. The exhibition will be on display through December 17, 2023. 
The 5 p.m. exhibition tour on August 4 will be followed at 6 p.m. by a free 45-minute long performance of Tholpava Koothu: The Shadow Puppet Play of Kerala by Padmashri Ramachandra Pulavar and his son Rahul Koonathara. This ancient, ritual-based performance is based on selected verses from the epic Kamba Ramayana. Seating is limited; reservations are required: bimp.ticketleap.com/tholpavakoothu.
On Saturday, August 5 from 10 a.m. to 3 p.m. Padmashri Ramachandra Pulavar and Rahul Koonathara will lead a day-long workshop on shadow puppet design, carving, and manipulation, with a lunch break from noon to 1 p.m. (lunch not provided). The workshop fee is $25 per person. Space is limited, so advance registration is required bimp.ticketleap.com/indian-shadow-workshop/. Minors must be accompanied by an adult. 
Please note that the Ballard Institute will be closed July 10-Aug. 3 as we install this new exhibition.
About the Curator
Rahul Koonathara is the younger son of legendary shadow puppet master Padmashri Ramachandra Pulavar and puppeteer Rajalakshmi Ramachandra Pulavar. He was born into a family of puppeteers which has preserved Tholpavakoothu shadow theater traditions for twelve generations. Rahul is currently a graduate student in the Department of Comparative Literature and Cultural Studies at the University of Connecticut, under the guidance of Professor Matthew Cohen, and practices traditional shadow puppetry together with contemporary puppet productions, as well as scholarly research in the puppet arts. Rahul has a Bachelor's degree in Physics, and a Master's degree in Folklore Studies, as well as a degree in Acting from the National School of Drama in Bangalore. Rahul has performed major roles in traditional and contemporary shadow puppet productions at the Tholpavakoothu and Puppet Centre in Kerala, and at national and international festivals around the world.