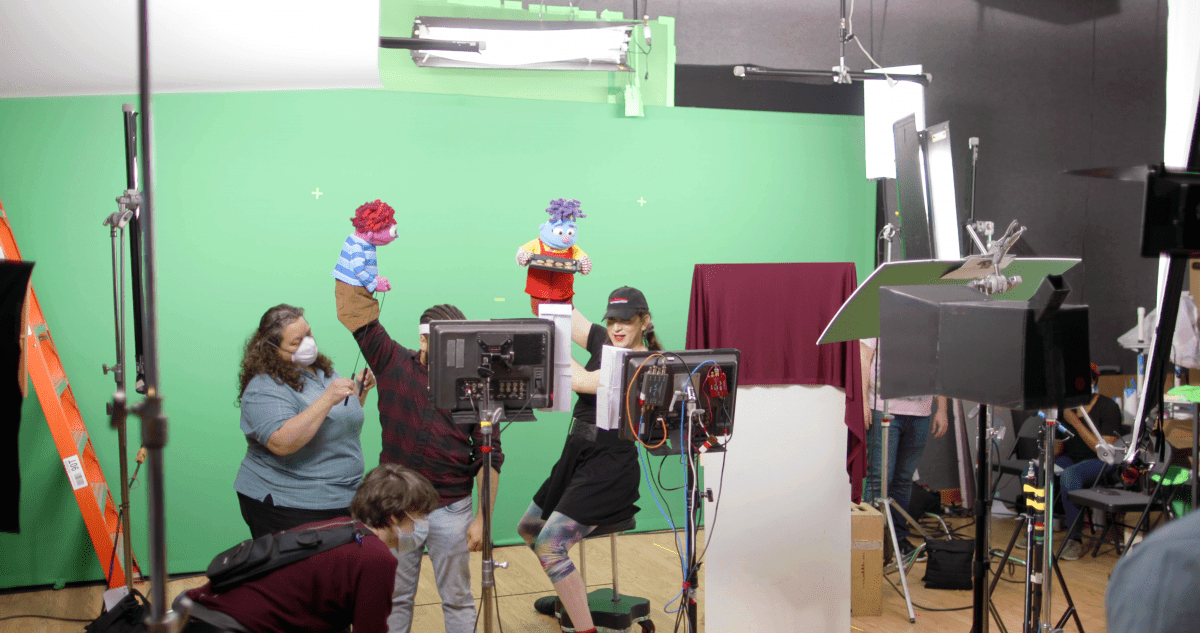 As part of the 2023 Spring Puppet Forum Series, the Ballard Institute and Museum of Puppetry is pleased to host The Making of Feel Your Best Self: Puppet Building and Video Production on Wednesday, April 26, 2023 at 7 p.m. in the Ballard Institute Theater, located at 1 Royce Circle in Downtown Storrs. This forum will also be broadcast via Ballard Institute Facebook Live (facebook.com/BallardInstitute). 
In this forum, Ballard Institute graduate assistant and Feel Your Best Self Puppeteer Stoph Scheer leads a discussion with Director and Producer Sarah Nolen, Puppet Builder John Cody, and Supervising Producer Heather Asch about building the puppet characters and producing the videos that are a part of the award-winning Feel Your Best Self project, an interdisciplinary collaboration between UConn's Collaboratory on School and Child Health and Ballard Institute to promote emotional well-being in elementary-aged children. Hear the ins-and-outs of puppet filmmaking, from the puppet-build process through pre-production to production, and learn how the cast and crew came together to get the whole series shot in two weeks.
Feel Your Best Self is designed for elementary-aged kids as an educational toolkit for learning emotion-focused coping strategies to calm yourself, catch your feelings, and connect with others. The FYBS strategies offer fun and easy ways to help kids (and grown-ups) experience lifts in emotions, feeling, or mood. The toolkit, which features short videos, facilitator steps, reflection journals, strategy cards, and tip sheets, is free and accessible on the website. 
Admission to this event is free (donations greatly appreciated!), and refreshments will be served. For more information or if you require accommodation to attend a forum, please contact Ballard Institute staff at 860.486.8580 or bimp@uconn.edu. 
About the Speakers
Heather Asch (Supervising Producer; "Brianna") Heather currently serves as Executive Director for No Strings Productions, a not–for–profit production company that creates puppet films that provide lifesaving information to at-risk children in the developing world. Film subjects include Malaria, Covid, HIV /AIDS, disaster preparation for earthquakes, tsunamis, flood, landslides, landmine safety, and peacebuilding. Heather has over 25 years of experience in the puppetry arts. Her career focus has been in film and television working as supervising producer, line producer, producer, puppeteer, voiceover artist, puppet designer, puppet builder, shop supervisor, build coordinator, wrangler, consultant, and photo stylist.
Throughout her career, she has worked with various companies, including The Jim Henson Company, Sesame Workshop, Nickelodeon, Disney, WGBH, Three Design Studios, and others.
Performance credits include "Between the Lions", "Johnny and the Sprites", "Sesame Street", and "Allegra's Window".  She is a four-time Emmy Award winner for her work building and wrangling with Sesame Street and performing on Between the Lions. 
http://www.nostringsproductions.org/
John Cody (Character Designer; Lead Puppet Builder; Puppet Captain; Puppet Wrangler; "Dance Teacher") is a puppeteer, puppet builder, and writer from Katonah, New York. He graduated with a BFA from the UConn Puppet Arts program in 2017, and has gone on to work on projects for The Jim Henson Company, Sesame Workshop, Nickelodeon, The Walt Disney Company and more! You can check out more of his work on his Instagram, @puppetjohn, or on his website puppetjohn.com
Sarah Nolen (Director; Producer; Art Director; Script Writer) is a puppeteer and filmmaker known for her versatile and witty work across multiple puppetry styles. Originally from Texas, Sarah now resides in  Massachusetts, where she works as a freelance puppeteer, director, and puppet  builder for both stage and screen through her company Puppet Motion. She received her MFA in Puppet Arts at the University of Connecticut in 2016. While at UConn, Sarah was awarded the 2015 Mister Rogers Memorial Scholarship in support of her MFA film project, TREEPLES, which premiered at  the 2016 Slamdance Film Festival. Sarah has trained at Sesame Workshop, the O'Neill Puppetry Conference, Sandglass Theater, the Brooklyn Puppet  Conspiracy, and completed a yearlong improvisational comedy program at the  Dallas Comedy House. Currently, she serves as Interim Co-Artistic Director at the Puppet  Showplace Theater in Brookline, where she tours her own solo puppet shows around New England. You can learn more about her work at her website:  http://www.sarahnolen.com/ 
Stoph Scheer ("CJ") has trained with and puppeteered for the Jim Henson Company, and has also puppeteered for The Muppets, Banksy, and FailArmy. She is co-founder of Doppelskope Puppet Theatre and co-writes and produces The Creatures of Yes on YouTube. Learn more on her website: www.scheerbrilliance.com