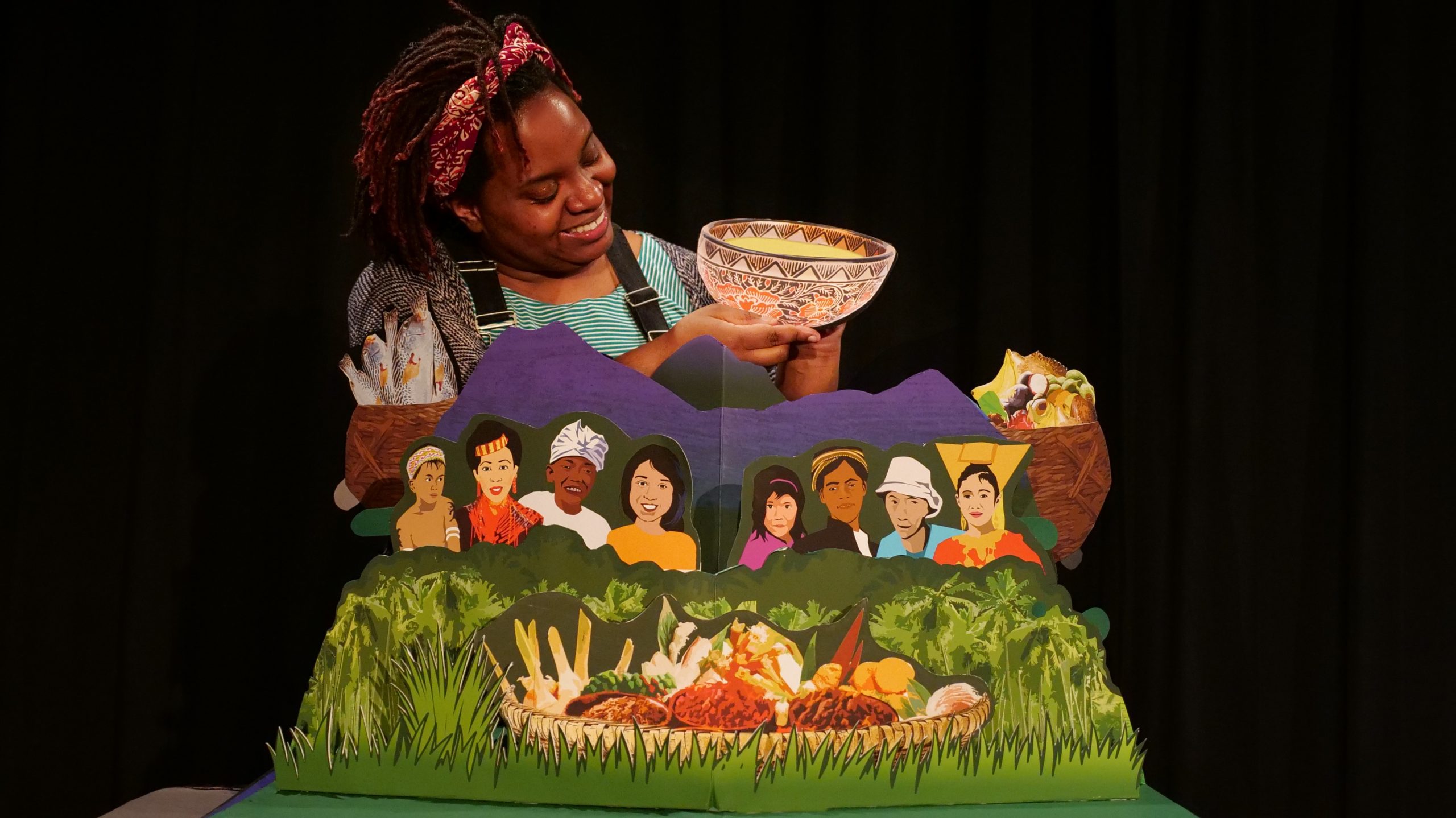 As part of its 2023 Spring Performance Series, the Ballard Institute is pleased to present My Night in the Planetarium by the Massachusetts-based educational organization Little Uprisings on March 25, 2023 at 11 a.m. in the Ballard Institute Theater, located at 1 Royce Circle in Downtown Storrs. 
Best-selling children's book author Innosanto Nagara's true story of art and social protest comes to life as a dynamic pop-up puppet show. Created and performed by Boston artist/activist Tanya Nixon-Silberg, the show transports audiences to Jakarta in the 1970s, where 7-year-old Inno learns firsthand how a play has the power to spark a resistance movement. Featuring designs and puppets by UConn Puppet Arts alumna Sarah Nolen, the story is brought to life with a rich soundscape, visual transformations, and kid-centered lessons about social justice. Recommended for ages 5+.
To purchase tickets, visit: bimp.ticketleap.com/planetarium/ 
Ticket Prices: Adults: $12; Members/Seniors: $10; Students: $8; Kids: $6 (12 years and under).
Tickets can be purchased in advance at the Ballard Institute and Museum of Puppetry, by calling 860-486-8580, or online at bimp.ticketleap.com. A surcharge will be added to any purchases made online. Tickets may also be purchased at the Ballard Institute on the day of the performance starting at 10 a.m. There will be open seating and no reservations. Visitors can park in the Storrs Center Garage located at 33 Royce Circle. For more information about these performances or if you require accommodation to attend this event, please contact Ballard Institute staff at 860-486-8580 or bimp@uconn.edu. Masks are recommended but not required. 
About the Company and Collaborators 
Through a multi-faceted, creative approach that centers the beauty and power of Blackness, Little Uprisings endeavors to build long lasting, deep and sustainable relationships in order for change to take root, growing a practice that allows justice to take hold daily. How can Black and Brown children thrive in a system that was not set up for them to thrive? And see the richness and beauty in themselves that is so rarely affirmed within larger institutions? How can white children unlearn deeply rooted bias in order to adopt a lens of racial justice, challenge existing systems, and stand with individuals in fighting oppression? 
Tanya Nixon-Silberg (Creator and Puppeteer) is a Black mother, puppeteer, educator, facilitator and founder of Little Uprisings—an organization focused on centering racial justice and liberation with kids and their caregiving allies. Little Uprisings' mission—be it in schools with teachers developing culturally relevant curricula, in a community center with children talking about gentrification, or helping parents develop their own values about racial justice—is actively anti-racist, joyful, and Black affirming; steadfastly focused on our collective liberation. You will mostly find Tanya playing with and learning from her 10 year old kid, dreaming up fun ways to engage children in racial justice through puppetry, and radically imaging how we all get free together.
Innosanto Nagara (Author and Illustrator ) was born and raised in Jakarta, Indonesia, and moved to the U.S. in 1988 to study zoology at UC Davis. Now an activist and a graphic designer based in California, he writes and illustrates social justice-themed children's books for all ages, including the best-selling board book A is for Activist and its companion Counting on Community. Those publications were followed by picture books My Night in the Planetarium, and The Wedding Portrait. M is for Movement aka Humans Can't Eat Golf Balls is his newest work for middle grade readers.
Roxanna Myhrum (Stage Director and Dramaturg) is an award-winning producer, stage director, and puppetry coach with credits at almost all of Boston's regional theaters. As the Artistic Director of Puppet Showplace Theater (2010-2021), she launched the Incubator New Works Development program to support new shows by Massachusetts-based artists. During her tenure she shepherded 15 world premieres to stage, many of which went on to tour nationally and internationally. She has taught puppetry and show-creation to all ages, pre-K to adult, and has served on the boards of Puppeteers of America and the Jim Henson Foundation.
Sarah Nolen (Co-Writer, Puppet Design, Production) is a puppeteer and filmmaker originally from Austin, Texas. As Puppet Showplace Theater's resident artist, she performs regularly for youth and family audiences around New England and teaches puppetry classes to all ages. Her three original productions, Lisa the Wise, Judy Saves the Day, and The Fairy Tailor have all toured extensively in the Northeast and beyond. In addition to her own shows, Sarah has done puppet builds for Netflix, Suffolk University, Boston College, and more. Sarah earned her BFA in film from Southern Methodist University, and an MFA in Puppet Arts from the University of Connecticut.