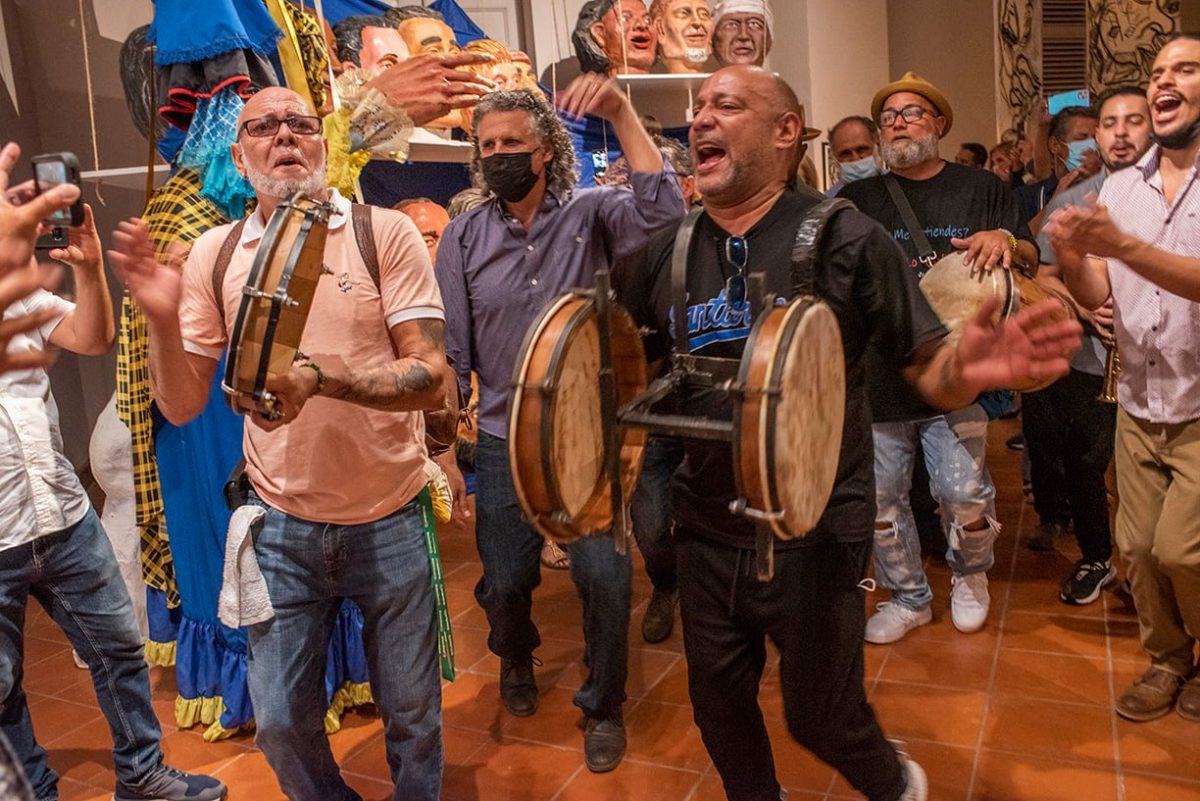 The Ballard Institute and Museum of Puppetry at the University of Connecticut will host "Tito Matos and Puerto Rican Culture" with panelists Pedro Adorno, Emmanuel Santana, Mareia Quintero, Luis Beltran on Thursday, May 12 at 7 p.m. ET. This forum will take place on Zoom (registration required) and Facebook Live and will be available afterwards on the Ballard Institute's Facebook page and YouTube Channel. 
The late Tito Matos, who passed away in January, reinvented the Afro-Puerto Rican singing tradition of plena, and was celebrated in San Juan by a procession that featured music, stilt-dancing, and giant cabesudo portrait masks. This forum will feature Pedro Adorno of the puppet company Agua, Sol y Sereno; Mareia Quintero, a professor cultural studies at the University of Puerto Rico; Emmanuel Santana, a pupil and friend of Tito Matos; and Luis Beltran-Alvarez, a University of Connecticut PhD. student in Political Science. This event is co-sponsored by the El Instituto: Institute of Latina/o, Caribbean, and Latin American Studies.
Mareia Quintero Rivera is Associate Professor at the Masters in Cultural Agency and Administration, and the Interdisciplinary Studies Program, at University of Puerto Rico, Río Piedras Campus. She obtained her Ph.D. in Social History from the University of São Paulo, Brazil. Her major areas of research include cultural criticism in the Hispanic Caribbean and Brazil; cultural policies, and contemporary arts in Puerto Rico. She is the author of the book A cor e o som da nação: A idéia de mestiçagem na crítica musical do Caribe Hispânico Insular e o Brasil (The color and sound of the nation: The idea of miscegenation in the musical criticism of the Insular Hispanic Caribbean and Brazil) and co-editor of the volume Antología del pensamiento crítico puertorriqueño contemporáneo (Anthology of contemporary Puerto Rican critical thought). She has served as president of the Puerto Rican Commission for Cultural Development, and as a member of the Board of Directors of the Institute of Puerto Rican Culture and the School of Visual Arts and Design. She has been a close collaborator of Agua, Sol y Sereno and is currently working on a book about the group.
Pedro Adorno is co-founder and artistic director of Agua, Sol y Sereno. He is a theater and film director and works as an actor, visual artist, educator and stilt man. Agua, Sol y Sereno, founded by Pedro Adorno and Cathy Vigo in 1993, is a non-profit organization that promotes the development of Puerto Rican experimental theater and the democratization of art to all sectors of the population. It links artistic work to social reality through pieces that explore a broad aesthetic range, parades with stilters and big heads puppets, creative workshops, and community residences.
Luis J. Beltrán-Álvarez is from Aguadilla, Puerto Rico. He earned his bachelor's degrees in Political Science and Sociology from the University of Puerto Rico, Río Piedras Campus, and earned a Master's degree in Philosophy from the same institution. Currently he is a Ph.D. Candidate in Political Science in Political Theory and Comparative Politics at the University of Connecticut. His main research interests are Political Subjectivities, Social Movements,  Decolonial Feminism, Anticolonialism and Decoloniality, Anarchism, Populism, Philosophy of Race/Racism, and Discourse Theory.
Emanuel Santana is a plenero and artist born and raised in Santurce, Puerto Rico. A friend and pupil of Tito Matos, he is also part of the organizing collective Plenazos Callejeros. He also participates and works together in La Goyco community workshop, an organization dedicated to the empowerment, solidarity, and democracy of the community of Santurce. La Goyco's primary focus is education, culture, and health programs via the empowerment of the community.