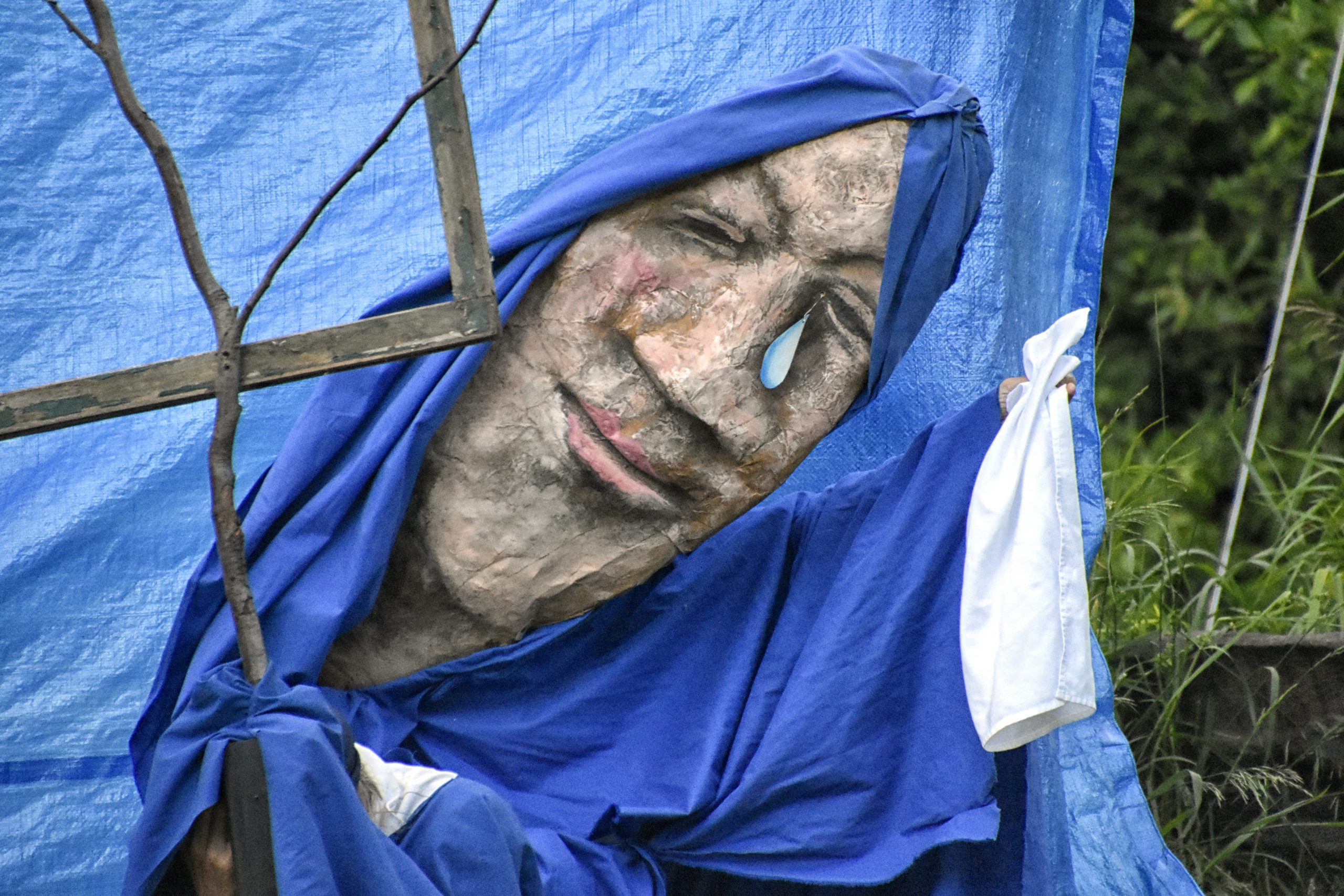 Vermont's internationally acclaimed Bread and Puppet Theater will return to the University of Connecticut for two outdoor afternoon performances of Aeschylus' tragedy The Persians on April 23 and 24, 2022. 
The show, performed by the Bread and Puppet company together with over 20 community volunteers, will bring together musicians, composers, builders and puppeteers from many eras of Bread and Puppet's history, and includes giant puppets, flying plastic, Lubberland gesturing, a chorus of screamers, and Johann Sebastian Bach. Bread and Puppet Theater founder and director Peter Schumann explained his interpretation of the 472 BCE tragedy in this manner: "When Athens commissioned Aeschylus to write the official celebration piece for the Greeks' miraculous victory over the vastly superior Persian Empire invasion force they must have expected just that: a glorification of national prowess & skill. What they got instead is the opposite: heartrending compassion for the slain enemy, lamentation for the despairing mothers and widows of the slain warriors. Can our own permanently warring military industrial empire learn from this?"
Tickets for Bread and Puppet Theater's The Persians are $15 for adults, and $10 for students and can be purchased online at https://bimp.ticketleap.com/the-persians/. Performances will take place outdoors on UConn's South Campus Lawn, except in case of inclement weather, in which case performances will take place indoors at a location to be announced. Masks are recommended, but not required, for audience members at either outdoor or indoor performances. Seating will be first come, first served. For outdoor shows, please bring chairs and blankets. 
In conjunction with performances of The Persians, join us for two other activities with Bread and Puppet Theater!
Street Shows, Wednesday, April 20 at 12 noon: Bread and Puppet Theater will perform pop-up street shows performed on Fairfield Way will reflect Bread and Puppet's re-invention of the traditional picture-performance form known as cantastoria, in which a series of colorful paintings are sung and narrated by a chorus of performers and brass musicians. This colorful, celebratory, and thought-provoking performance is suitable for all ages and free.
Puppet Forum, Thursday, April 21 at 12 noon: Bread and Puppet Theater founder and director Peter Schumann and musicians and puppeteers from the Bread and Puppet company will discuss the process of creating a new production of a 472 BCE tragedy lamenting war, defeat, and destruction, with colorful oversize puppets, music by Johann Sebastian Bach, dance, and giant paintings. How can music, sculpture, dance, and painting combine to re-envision one of the oldest Greek tragedies for the 21st century? This event is co-sponsored by the Environmental Theatre Committee of the UConn Department of Dramatic Arts.
This forum will take place in the UConn Dramatic Arts Department's Mobius Theatre, and will be livestreamed on Zoom (registration required) and Facebook Live, and will be available afterwards on the Ballard Institute's Facebook page and YouTube Channel.
Funded in part by the New England States Touring program of the New England Foundation for the Arts, made possible with funding from the National Endowment for the Arts Regional Touring Program and the six New England state arts agencies.
The Persians Performance Information
Run time: 80 minutes
Age recommendations: For all ages
Location Information: South Campus Lawn is near the Rome Commons Ballroom and Anna M. Snow Residence Hall, 626 Gilbert Rd, Storrs, CT 06269.
Seating Information: Open seating outdoors; bring your own chairs and blankets. Seating is first come, first served and will begin at 3:30 p.m.
Parking Information: Attendees should park in the S Lot on UConn's campus, which is a short walk to the South Campus Lawn. 
For those with disabilities, a limited number of parking spots will be available in a small lot off of Gilbert Road right next to the performance space.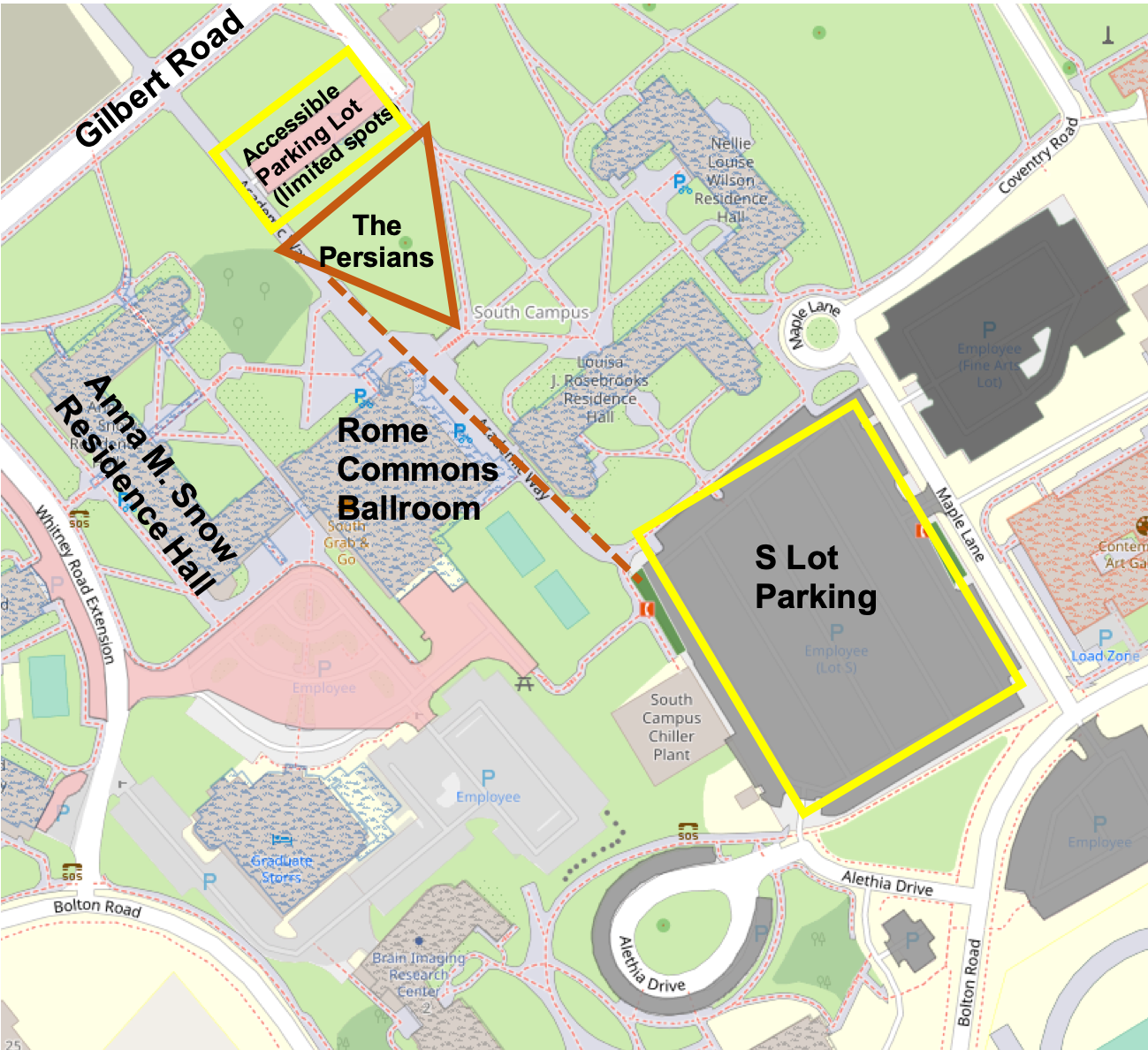 Covid Guidelines: see https://covid.uconn.edu/campus-guidelines/.
Vaccination Policy: All patrons must comply with the COVID-19 Patron Vaccination Attestation at the point of purchase, located on the Ballard Institute Ticketleap page; however patrons will no longer be required to present physical proof of vaccination or negative COVID-19 test upon entry to the building.
Masking: Masks are recommended but not required.
Bathrooms: Portable toilets will be available for audience members. 
Press Kit: https://tinyurl.com/yc84np75
---