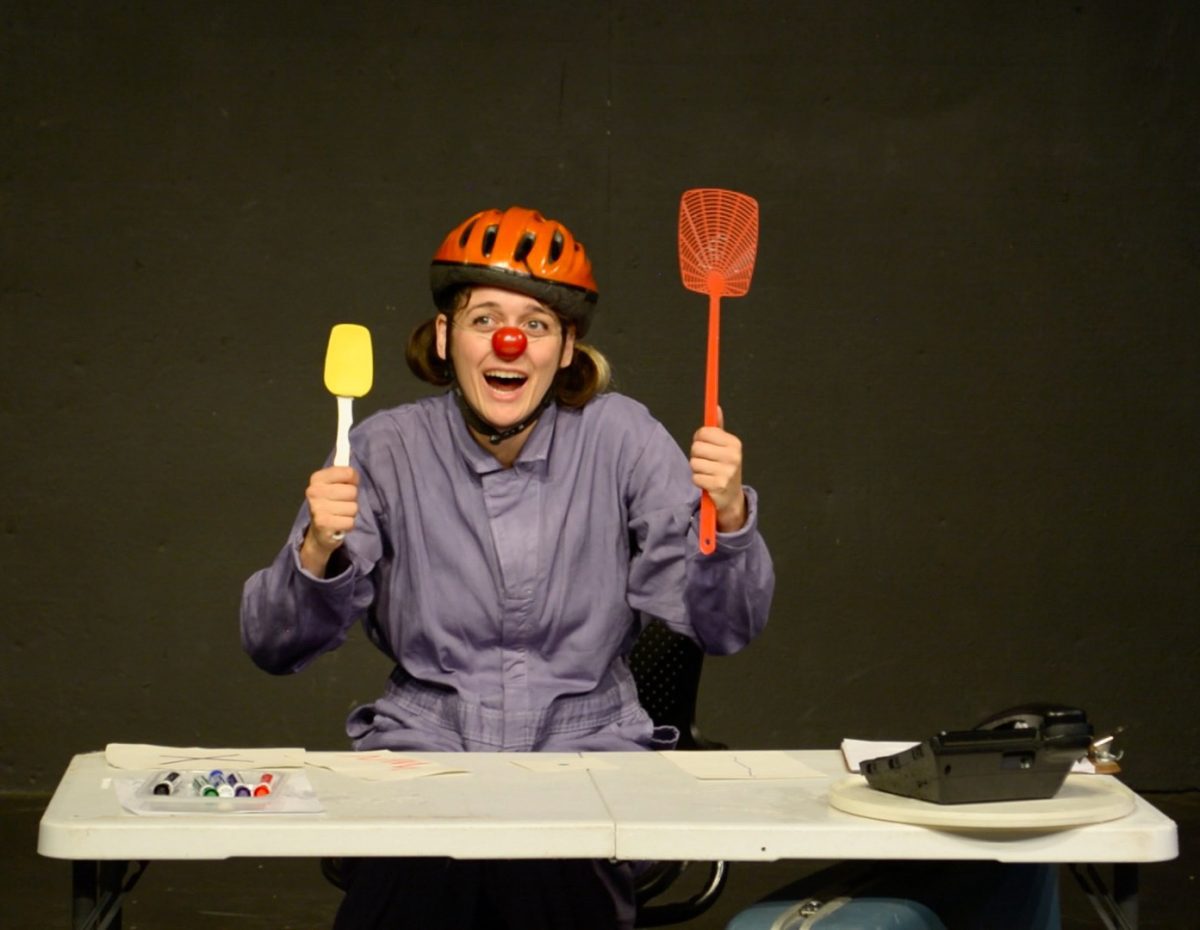 As part of its 2023 Spring Puppet Performance Series, the Ballard Institute and Museum of Puppetry at the University of Connecticut is pleased to present New York City puppeteer Marta Mozelle performing Please Ship This Wet Gift by Brave Bucket Co., on Saturday, May 13, 2023 at 11 a.m. in the Ballard Institute Theater, located at 1 Royce Circle in Downtown Storrs. 
Please Ship This Wet Gift is one clown's presentation about terrible feelings and provides an opportunity for family audiences to laugh together about feeling bad. The original work uses drawing-without-looking, audience suggestion, audience participation, made-up songs, puppetry, and cardboard sharks to explore dealing with the things in life that are unfair, scary, sad, and just really annoying. The show melds clown theater with puppetry expertise to bring compassion and lightness to the heavy stuff. Recommended for ages 4+.
To learn more about the performance and Brave Bucket Co., visit bimp.ticketleap.com/wet-gift 
Ticket Prices: Adults: $12; Members/Seniors: $10; Students: $8; Kids: $6 (12 years and under).
Tickets can be purchased in advance at the Ballard Institute and Museum of Puppetry, by calling 860-486-8580, or online at bimp.ticketleap.com. A surcharge will be added to any purchases made online. Tickets may also be purchased at the Ballard Institute on the day of the performance starting at 10 a.m. There will be open seating and no reservations. Visitors can park in the Storrs Center Garage located at 33 Royce Circle. For more information about these performances or if you require accommodation to attend this event, please contact Ballard Institute staff at 860-486-8580 or bimp@uconn.edu. Masks recommended but not required.
About the Company and Collaborators:
Marta Mozelle MacRostie (Performer/Designer) is a puppeteer, clown, designer, builder, teacher and vocalist. Performance highlights include: Baby Universe (Wakka Wakka Productions, Studio Theater), Better Out Than In (Banksy's NYC Residency), La Divina Caricatura (Mabou Mines, PS 122 and La MaMa), Lemony Snicket's The Composer is Dead (Phantom Limb Company, Berkeley Rep), and Puss in Boots (Moises Kaufman, Gotham Chamber Opera & Blind Summit, New Victory Theater). She was a participant in Sesame Street's 2016 & 2014 Training Workshops, and her onscreen credits include: Sesame Street (season 45 assist), Time Machine Guitar, The Warby Trace Show, and commercials for H&M, LG, and the Coca-Cola Company.
Marta's show for family audiences Help Save the Monkey! (with collaborator Liz Hara) premiered in the 2014 New York Children's Theater Festival, and was awarded a 2014 Jim Henson Foundation Family Grant. Her work for adults, Close to Decline, was workshopped in Labapalooza! at St. Ann's Warehouse, received support through a Jim Henson Foundation Presenter's Grant at the Tank Theater, and was a finalist for the Creative Capital Award.
Marta holds a degree in Puppetry & Music from UMass Amherst, studied clown at Movement Theater Studio and with John Leo, is a many-time alum of the O'Neill National Puppetry Conference, and served on the Artistic Direction Committee for the 2013 National Puppet Festival.
Hannah Simms (Director) is a director and teacher based in Hartford, CT. She is a graduate of the Dell'Arte School of Physical Theatre, the NTI Advanced Directing Semester at the Eugene O'Neill Theater Center, and the Ada Comstock Program at Smith College. Directing credits include: Pegao and Frog Hollow State of Mind (HartBeat Ensemble), To Kill a Mockingbird (Central Connecticut State University), Guenevere (Ivoryton Playhouse), Eurydice (PVPA Charter High School), Julius Cesar and Romeo & Juliet (Hampshire Shakespeare). She has also directed in thedirected in the Write On! festival at Hartford Stage. Assistant Directing credits include The City That Cried Wolf off-Broadway at 59E59, and FlipSide at HartBeat Ensemble. She has taught clown for Art Farm, the Greater Hartford Academy of the Arts, and the Children's Circus of Middletown. Hannah is an ensemble member at HartBeat Ensemble.