The Ballard Institute and Museum of Puppetry's 2011 Fall Forum series will feature talks with and by significant American scholars and puppeteers on Wednesday and Friday evenings from November 18th through December 7th.  Fall Forum speakers include Erminio Pinque, Dan Butterworth, John Emigh, Richard Termine and Bart Roccoberton.  This season's forums are designed to complement the Ballard Institute's current exhibitions devoted to Frank Ballard, the founder of the UConn Puppetry Program and namesake of the Institute.
All Fall Forum talks will start at 7:30 p.m. at the Ballard Institute and Museum of Puppetry on the University of Connecticut's Depot Campus, and are free and open to the public.  Refreshments will be served.  The Fall Forum series includes the following presentations:
Friday, November 18: "Puppetry and Mask Performance Off Stage and Out of Bounds: Creature Theatre in a Human Landscape" with Erminio Pinque of Big Nazo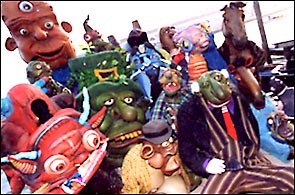 The series begins on Friday, November 18 with Erminio Pinque, the founder and director of Big Nazo, the Providence, Rhode Island-based international performance group of visual artists, puppet performers, and masked musicians who unite to create bizarre and hilarious larger-than-life sized characters, environments, and spectacles.
Wednesday, November 30: "Puppet Work with Inuit in the Far North" by Dan Butterworth
Based in Pascoag, Rhode Island, Dan Butterworth makes intricately hand carved puppets in a unique cacophony of puppet styles and genres.  Dan and his puppets have performed in movies, operas, classical music festivals and TV specials.  On Wednesday, November 30 at the Ballard Institute, Dan will speak about his recent work with Inuit people in the Arctic preserving ancient oral stories using marionettes made from native materials.  He will also discuss his work inventing "Wheelchair Theaters": mobile effects platforms using wheelchairs, which he has performed in hospitals, schools, and with veterans groups.
Friday, December 2: John Emigh on Southeast Asian Puppetry
John Emigh thanking his audience at a Balinese Topeng performance.
On Friday, December 2, internationally renowned theater historian John Emigh of Brown University will discuss the influence of Southeast Asian puppetry on American puppet traditions of the 20th and 21st century.  Julie Taymor, Bread and Puppet Theater, San Francisco's Larry Reed, and Frank Ballard himself were all affected by the stunning power and cultural significance of South Asian puppet traditions, which have seeped into their work and that of many other puppeteers.  Professor Emigh, himself a brilliant student of Balinese Topeng masked dance, will trace these connections and their importance to modern American culture.
Wednesday, December 7: Symposium on the work of Frank Ballard, with Bart Roccoberton, Richard Termine, and UConn Puppet Alumni
On the occasion of the late Frank Ballard's 82nd birthday, Wednesday, December 7, former students and colleagues of this  influential puppet master will meet to talk about Professor Ballard's work and its significance.  Join UConn Puppet Arts Program head Bart Roccoberton; celebrated Sesame Street puppeteer and New York Times photographer Richard Termine, and members of UConn's large network of Puppet Alumni in a discussion of Frank Ballard's influences, teaching, performance style, and production methods.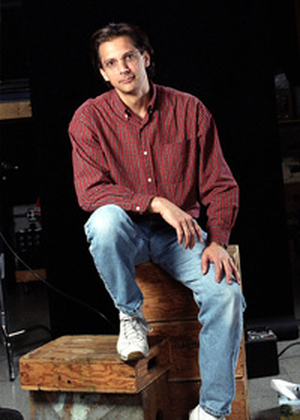 ---