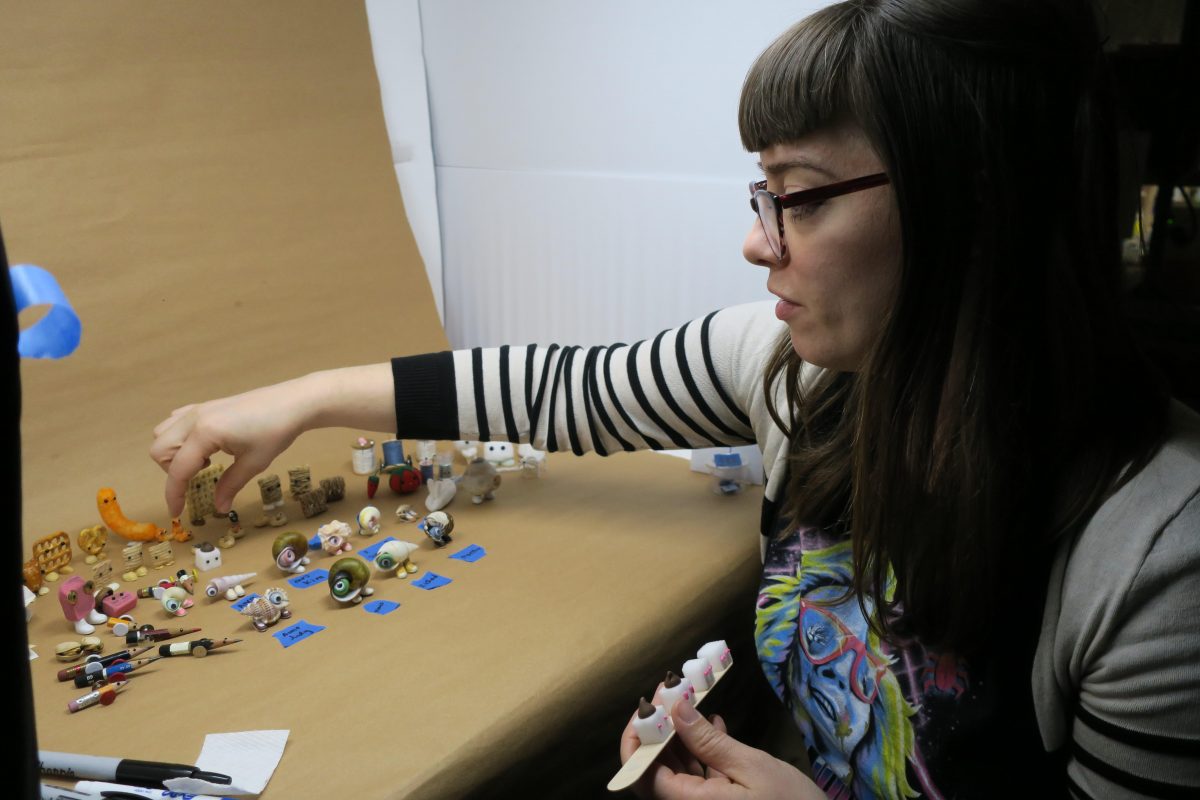 As part of the 2022 Online Fall Puppet Forum Series, the Ballard Institute and Museum of Puppetry at the University of Connecticut will host Guess Why I Smile a Lot?  How Media Figures in "Marcel the Shell with Shoes On"  with moderator Dr. Paulette Richards and panelists María Andreotti, and Becky van Cleve on Thursday, October 20 at 7 p.m. ET. This forum will take place on Zoom (registration required) and Facebook Live and will be available afterwards on the Ballard Institute's Facebook page and YouTube Channel. 
More than two decades have passed since puppet theorist Steve Tillis observed that "media figures share with puppetry the crucial trait of presenting characters through a site of signification other than actual living beings" in his 1988 article "Toward an Aesthetics of the Puppet". In that time, YouTube has nurtured a cohort of puppeteers whose formative experiences as performers have been on screen rather than on stage. While artists active in puppetry and animation often have an affinity for both media, puppetry and animation are usually treated as separate disciplines. Yet, Marcel the Shell with Shoes On, which began as a viral video phenomenon, blurs the boundaries between puppetry, stop motion, and 2D animation. This conversation, moderated by Atlanta-based teaching artist and independent researcher, Dr. Paulette Richards, with Becky van Cleve, Head of Puppet Fabrication, and María Andreotti, Puppet Coordinator/ Fabricator for the 2022 feature-length iteration of the beloved shell's adventures, will therefore outline the intricacy of the film's production process; review the different types of puppets involved in the production; comment on how targeting an adult audience influenced the design of the puppets and sets; and reflect on how the nature of material performance highlights humans' relationship to "vibrant matter." 
 About the Speakers
Atlanta-based teaching artist and independent researcher, Paulette Richards survived a ten-month stint in Senegal as a 2013/2014 Fulbright Scholar without contracting any tropical diseases, but sometime during her service as an artist-in-residence at the Institut Français de Saint Louis, the puppet bug bit her hard. Co-curator of the Living Objects: African American Puppetry exhibit at the University of Connecticut's Ballard Institute and Museum of Puppetry with Dr. John Bell, she holds a Ph.D. from the University of Virginia. Her book Object Performance in the Black Atlantic is forthcoming from Routledge in 2023.
Becky van Cleve is an artist & leader in the film/tv industry in Los Angeles, CA. The majority of her work has been as Head of Fabrication for puppet and costume departments in the stop motion animation industry. Currently she's working in the script department on a CG feature at Netflix animation with the goal of eventually creating, writing, and directing her own content (there will be puppets).
María Andreotti is a puppet fabricator, production manager and stop motion instructor based in Los Angeles. For the last decade she has worked primarily at stop motion and 2D animation studios while creating dolls and puppets for freelance clients. Previous projects include The Boxtrolls, Kubo and the Two Strings, Bob's Burgers, Alien Xmas, Marcel the Shell, and she's currently managing the art & puppet departments on an unannounced stop motion series. Her life goals are directing her own puppet show and playing Mayor HR Pufnstuf someday.
---