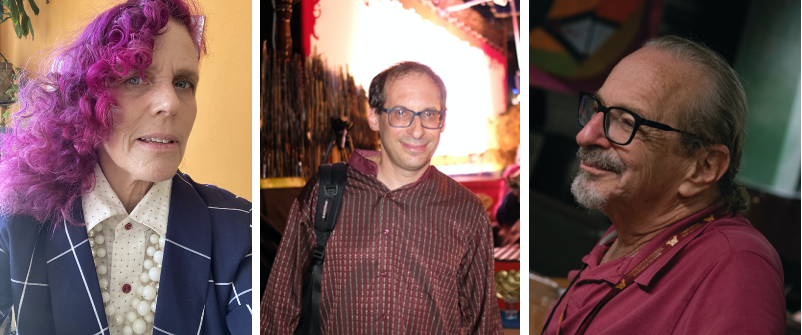 For its second installment of the 2022 Spring Puppet Forum Series, the Ballard Institute and Museum of Puppetry at the University of Connecticut will host "Adventures in Jewish Puppet and Spectacle Performance" with panelists Jenny Romaine, Matthew Cohen and Steve Abrams on Thursday, March 24 at 7 p.m. ET. This forum will take place on Zoom (registration required) and Facebook Live and will be available afterwards on the Ballard Institute's Facebook page and YouTube Channel. 
Global forms of puppet and object performance have their roots in religion and ritual that reflect Jewish cultural and religious practices. "Adventures in Jewish Puppet and Spectacle Performance" will look at a variety of current and historical aspects of Jewish puppetry through a conversation with three prominent puppeteers engaged in this work: activist artist Jenny Romaine, Puppetry Journal editor Steve Abrams, and University of Connecticut Dramatic Arts professor Matthew Cohen.
All three panelists will speak of their own experiences with puppet and spectacle performance: Steve Abrams will offer an overview of historical 20th-century puppet purimsphiln, and his own experiments in that form; Jenny Romaine will elaborate upon her work as a director of spectacle and puppetry with the Sukkos Mob, the Aftselakhis Spectacle Committee, and Great Small Works; and Matthew Cohen will focus on his current production of Wayang Esther, a purimshpil with Javanese-style shadow figures at the Mandell Jewish Community Center in West Hartford, performed with Gamelan Son of Lion, and its accompanying Purim Puppetry exhibition. This event is co-sponsored by the the UConn Center for Judaic Studies. 
Jenny Romaine is a director, designer and puppeteer and co-founder/artistic director of the OBIE award-winning Great Small Works visual theater collective. She is music director of Jennifer Miller's Circus Amok and artist-in-residence at Milk Not Jails and Inside Change. With Great Small Works Romaine performs, teaches, and directs in theaters, schools, parks, libraries, museums, prisons, street corners, and other public spaces, producing work on many scales, from gigantic outdoor spectacles with scores of participants, to miniature shows in living rooms. She has directed and designed community-based spectacles for numerous projects in New York City and around the world. Romaine was a sound archivist at the YIVO Institute for Jewish Research for 13 years and for several decades has drawn on Yiddish/Pan-Jewish primary source materials to create art that has contemporary meaning. Her projects include the Sukkos Mob (featured in the film Punk Jews) and 25 years of community Purim Shpiln with the Aftselakhis Spectacle Committee. She was the first recipient of the Adrienne Cooper Award for Dreaming in Yiddish (2014), received a Marshall Meyer Risk-Taker Award from Jews for Racial and Economic Justice (2015), and is featured in Dazzle Camouflage: Spectacular Theatrical Strategies for Resistance and Resilience a monograph by Ezra Berkley Nepon. She has been a Visiting Professor at the Pratt Institute Department of Performance Studies.
Dr. Matthew Isaac Cohen is a professor in the Department of Dramatic Arts at the University of Connecticut, specializing in global arts and puppetry. He has published extensively in the field of Indonesian performing arts and trained in Java, Indonesia as a dhalang wayang kulit (shadow puppeteer) starting in 1988. He was the principal puppeteer in the 2022 production of Barbara Benary's shadow puppet musical Wayang Esther: A Javanese Purimspiel, produced as a collaboration between UConn's Puppet Arts program and Gamelan Son of Lion. He also curated the associated exhibition "Purim Puppetry," which is on display at the Mandell Jewish Community Center of West Hartford, CT until the end of March. He is currently working on a visual history of Indonesian puppetry and associated exhibition, based on the Dr. Walter Angst and Sir Henry Angest Collection of Indonesian Puppets at Yale University Art Gallery.  
Steve Abrams has served as editor of Puppetry Journal since 2015 and was associate editor 2002-2014. He was the North American editor for the World Encyclopedia of Puppetry Arts (WEPA). He served as president of Puppeteers of America 1999-2001 and was the co-artistic director of the National Puppetry Festival in Tampa 2001. He was vice president of UNIMA-USA for several terms. For more than 40 year Steve performed his solo shows (mostly hand puppets) in hundreds of schools, libraries, and theaters. He has performed a handful of Purim shows.
For more information email bimp@uconn.edu.
---