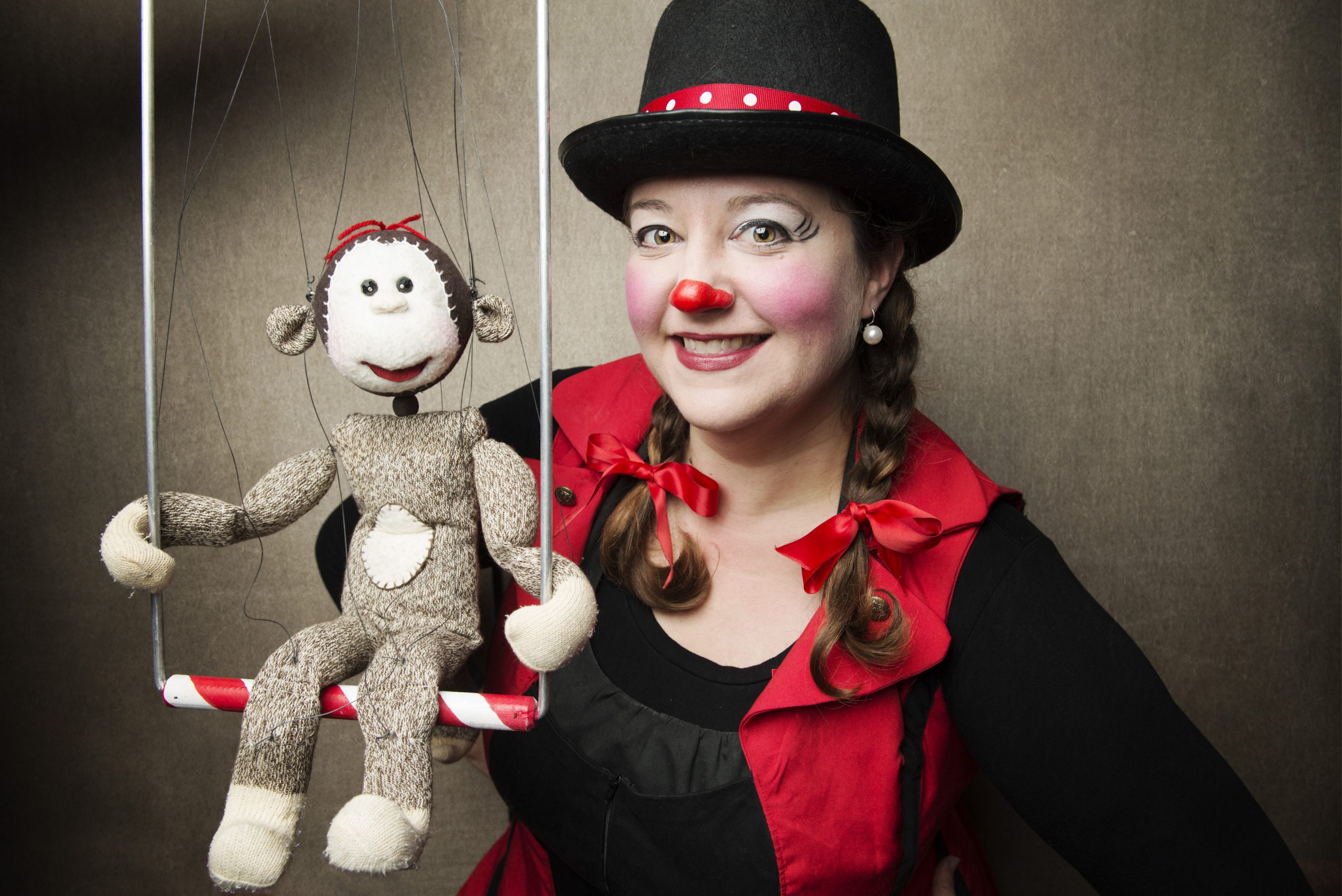 As part of its 2022 Fall Puppet Shows, the Ballard Institute and Museum of Puppetry will present Sock Monkey Circus by Massachusetts-based Good Hearted Entertainment on Saturday, Oct. 15 at 11 a.m. ET in Betsy Paterson Square. In the event of inclement weather, the show will be rescheduled for Sunday, Oct. 16 at 11 a.m. ET. This performance is co-sponsored by the Mansfield Downtown Partnership. 
Sock Monkey Circus is a full circus performed in miniature! This performance features the magical talents of the host "Funny Honey" and her clever monkeys, who are trained to juggle, dance, and swing on a flying trapeze! All this while traveling in their very own circus train car that converts into a miniature stage. This circus can be featured outside to interact with spectators, or also featured on a stage for a more formal presentation. These silly monkeys continually outsmart our host, all while performing a variety of circus routines. Everyone is welcome to monkey around with the Sock Monkey Circus! Recommended for ages 3 and up. The runtime of the show is approximately 40 minutes. 
Due to generous support during our 2022 UConn Gives campaign, admission is free to this show, but donations are encouraged. Reservations are not required. Chairs will not be provided, so groups are encouraged to bring their own blankets and seating. Seating space will be first come, first served. For more information, or if you require accommodation to attend this event, please contact Ballard Institute staff at 860.486.8580 or bimp@uconn.edu.
Honey Goodenough is a puppeteer, educator, children's party entertainer and creator of Good Heartedd Entertainment. She holds an MA in Educational Theater from New York University, and a BA in Theater Crafts and Technology from the University of Texas, Austin. Her solo show, Sock Monkey Circus toured China in Fall 2017 with the International Clown Comedy Festival, and was also part of the National Puppet Slam at the Center for Puppetry Arts.  Honey is a trained marionette performer and has performed with Paper Moon Marionette Theater, PuppetWorks, and toured with the National Marionette Theatre and Frisch Marionettes. She has produced and performed in Puppet Slams across the country with generous support from Heather Henson's Puppet Slam Network. After years of experience working with diverse student populations in greater Boston, New York City, Vermont, and Texas, in 2017 she became Puppet Showplace Theater's first resident teaching artist. She taught a wide variety of professional development courses for educators and aspiring puppeteers at Montserrat College of Art, Brooklyn College, the University of Utah, and City College CUNY. To learn more visit  goodheartedentertainment.com
---