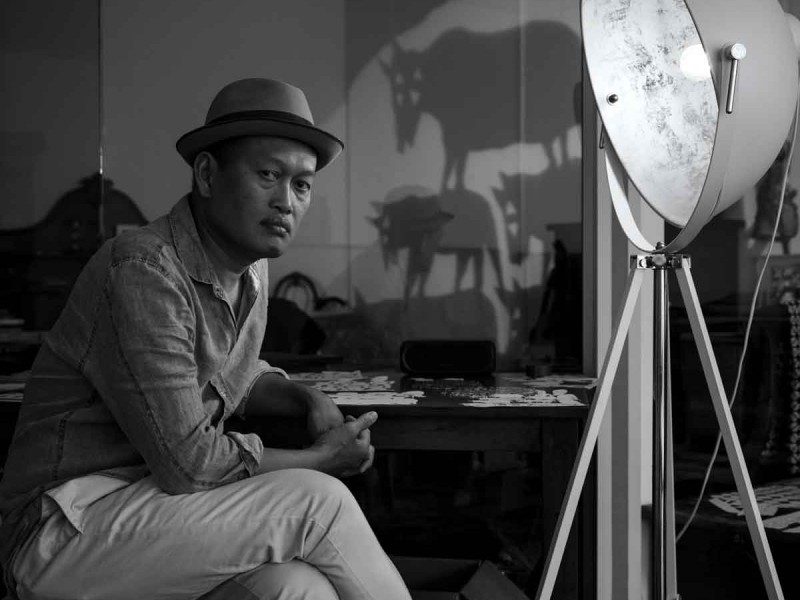 As part of the 2023 Spring Puppet Forum Series, the Ballard Institute and Museum of Puppetry is pleased to host Jumaadi: From Wayang Kulit to Contemporary Art on Wednesday, April 12, 2023 at 7 p.m. in the Ballard Institute Theater, located at 1 Royce Circle in Downtown Storrs, with artist Jumaadi joining us virtually from abroad. This forum will also be broadcast via Ballard Institute Facebook Live (facebook.com/BallardInstitute). 
Ballard Institute director Dr. John Bell will host this Puppet Forum conversation with Jumaadi, a contemporary Indonesian-Australian artist, and UConn professors Dr. Matthew Cohen and Dr. Macushla Robinson. The discussion will probe a particular aspect of Jumaadi's creative process: how wayang kulit, the tradition of Javanese shadow puppet theater, provides a key source for inspiration and techniques, and how Jumaadi's own shadow puppet plays (performed mainly using overhead projectors and other modern technologies) depart in significant ways from this tradition. The conversation will consider the nostalgic pull of wayang kulit, conditions of art making in both Indonesia and Australia, and the possibilities opened up through travel and cosmopolitanism. This conversation coincides with the opening of Jumaadi's solo exhibition Migration of Flora at the Contemporary Art Galleries of the University of Connecticut, located at 830 Bolton Rd, Storrs, Conn. To learn more about the exhibit, visit contemporaryartgalleries.uconn.edu.
Admission to this event is free (donations greatly appreciated!), and refreshments will be served. For more information or if you require accommodation to attend a forum, please contact Ballard Institute staff at 860.486.8580 or bimp@uconn.edu. 
About the Speakers
Jumaadi is a multi-disciplinary artist working in various mediums ranging from small, poetic gouache on paper works to large scale drawings which can exceed 3 x 20 metres. His paintings are comprised of mixed media executed on plywood, timber, cloth, canvas and buffalo hide. Jumaadi is also recognised for his sculptural works in wood and metal, as well as installation and performance work. Jumaadi currently lives and works between Yogyakarta, Indonesia and Mosman, Sydney, and is represented by King Street Gallery. 
Dr. John Bell, a puppeteer and historian, is Director of the Ballard Institute and Museum of Puppetry and an Associate Professor of Dramatic Arts at the University of Connecticut. A member of the Bread and Puppet Theater company from 1976 to 1986, he received his Ph.D. in theater history from Columbia University in 1993. He is the author of American Puppet Modernism: Essays on the Material World in Performance and other books and articles about puppets and performing objects, and is a founding member of the Brooklyn-based Great Small Works theater collective.
Dr. Matthew Isaac Cohen is a Professor of Theater Studies and Puppet Arts at the University of Connecticut. He has published extensively on Indonesian performing arts and performs wayang kulit under the nom-de-stage Kanda Buwana. He is currently working on a book on the history of puppet theater in Indonesia based on the Dr. Walter Angst and Sir Henry Angest Collection of Indonesian Puppets at Yale University Art Gallery.   
Dr. Macushla Robinson is Assistant Professor in Residence, and Director of the Contemporary Art Galleries at the University of Connecticut. A curator, writer and teacher with a strong interdisciplinary practice, she founded in·ter·sti·tial press –– a small publishing organization dedicated to cultivating conversations that exist in the margins of major disciplines, and is also Managing Editor of Design and Culture journal. She has worked for over a decade across museums and contemporary art spaces, focusing on working with contemporary artists to develop new works, and in this respect her curatorial practice entwines with her pedagogical practice.
With degrees in philosophy and fine arts (printmaking), an MA in liberal studies and a PhD in politics, she is relentlessly committed to stretching across disciplines and discourses. Her doctorate confronted issues of slavery and decorative arts from the perspective of reparations and political economy. She works at the intersection of objects and politics, facing questions of commemoration and reparations.
---